By Asiri Fernando
---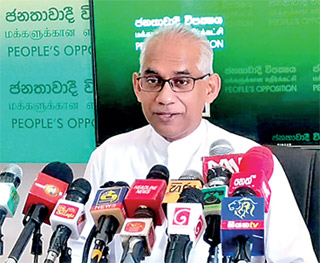 SJB Parliamentarian Eran Wickramaratne addressing the press
---
Sri Lanka needs fiscal consolidation with or without International Monetary Fund (IMF) assistance, backed by a robust foreign policy and the rule of law to evade a deepening crisis, Samagi Jana Balawegaya (SJB) Parliamentarian Eran Wickramaratne said yesterday.

The Opposition MP stressed that there was no way forward without fiscal consolidation, be it with or without the help of the IMF.

He also said that the economy needs to be open, enabling local industry to link with global supply chains, an outcome that is only possible if the rule of law is delivered.

«The rule of law must apply to all,» he said during a media briefing.

He pointed out that Sri Lanka needs to honour the international commitments and become a country that does what it says. He also argued that during the last two years, the small and medium-scale enterprises (SMEs) have been crushed due to state policies, while industry giants have thrived.

He stressed that most Sri Lankans depend on small enterprises or make their livelihood on daily wages. Wickramaratne stressed that tax reductions by the Government in late 2019 caused state revenue to plummet and that it did not have a trickle-down effect that benefited the masses.

"The people are suffering; open the economy. Help the local SMEs to export, help them find markets and help them by giving them technology. When it comes to agriculture, we have seen these issues on fertiliser for 30 years. What agriculture needs is technology to modernise. Give them the technology, if necessary, give it to them free-of-charge,» MP Wickramaratne opined, adding that Sri Lanka should give primacy to exports.

The Opposition MP stressed the need for foreign policy reform, pointing out that as a small country, Sri Lanka needs a robust foreign policy aimed at integrating into the world and becoming the islands› external security umbrella. A sound foreign policy backed up by good economic policies will see local SMEs supported to find markets and be more competitive.

"Our international relations are failing. We have a Government that can›t even secure 600,000 doses of the AstraZeneca vaccine. Why is that? Our international-networking; our foreign policy is broken» he argued.

The Opposition MP blamed the Government for using nationalism and national security as a smokescreen to cover up their policy failures.

He also questioned why the Government was spending billions on road infrastructure while spending little on developing the human capital needed to be more competitive. Wickramaratne stated that it was the need of the hour to up-skill human resources and empower them.

"Long-term internal security and stability for Sri Lanka can only come from forging a ‹Sri Lankan› identity that all communities can identify with and believe in," MP Wickramaratne opined.