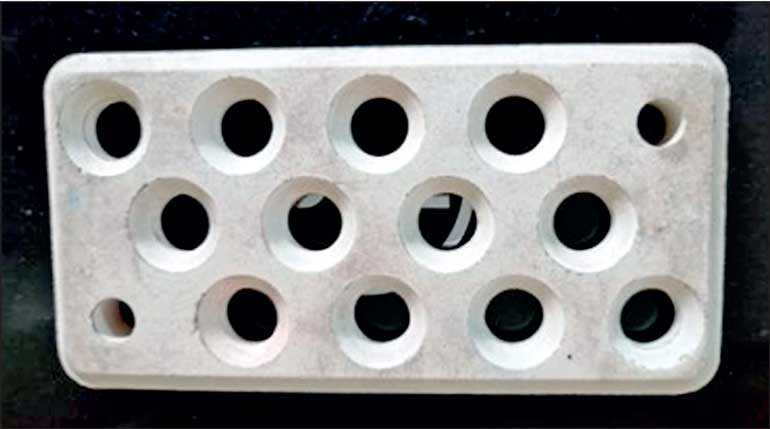 ---
Royal Fernwood Porcelain enhances its capabilities and expands its offering by producing non-tableware related products to precision.

Rakon products at forefront of communications whether it be deep down in the infrastructure, satellites in space, or navigation devices – enabling connectivity, faster and more reliable.

Royal Fernwood Porcelain Ltd., a large-scale manufacturer of high quality white and decorated porcelain tableware, recently manufactured a very delicate and important engineering component – the heater insulator for Rakon Ltd., New Zealand, a global high technology organisation that is in the forefront of enabling connectivity and communications by designing and manufacturing world leading frequency control solutions.

The heater insulator which was manufactured by Royal Fernwood to precision is said to be used in the temperature chamber, which is capable of handling varying temperatures from -60 degree Celsius to 120 degree Celsius and heating is done with three phase electricity. The heater insulator is used for holding heater coils in place thus can withstand high heat applications.

With the launch of this heater insulator, Royal Fernwood Porcelain transforms its product offering from a mere tableware company to a porcelain base manufacturer all items. This results in the company's ability to enhance its manufacturing capabilities and expand its product offering to produce any product to precision from porcelain raw materials.

"As an entity that constantly looking for fresh opportunities and innovative methods to launch new products, it is with great pleasure that we launch this product into the market," stated Royal Fernwood Porcelain Director and CEO Yoshan Fernando.

"Royal Fernwood Porcelain has always been an organisation that has earned respect and credibility amongst customers for being flexible, agile, launching of new products within short lead times and simply achieving milestones that has never been achieved before. Manufacturing and launching of the heat insulator were a great challenge which was translated into an opportunity and achieved successfully.

"Royal Fernwood will continue its quest for innovation, expanding boundaries and creating products that have never been tried before. With the launch of the heat insulator, we have elevated the brand to the next tier, one which is beyond mere porcelain tableware but are relevant to customers and businesses," Fernando added.

Rakon is a global high technology company and a world leader in its field. The company designs and manufactures advanced frequency control and timing solutions. Its three core markets are Telecommunications, Global Positioning and Space and Defence. Rakon products are found at the forefront of communications where speed and reliability are paramount.

The company's products create extremely accurate electric signals which are used to generate radio waves and synchronise time in the most demanding communication applications. Rakon has three manufacturing plants, and has six research and development centres. Customer support personnel are located in sixteen offices worldwide. Rakon is proud of its New Zealand heritage; it was founded in Auckland in 1967.

"We were trying to source a supplier for heater insulator after our existing partner discontinued the product lines," stated Rakon New Zealand Project Engineer – Equipment Development Group Sarath Dhamgagolla.

"We are indeed grateful to Royal Fernwood Porcelain Limited, for accepting the challenge, transforming it into an opportunity, manufacturing this essential component at the highest quality and delivering same within the given deadlines. We will no doubt use your expertise for future product developments with similar aspects and look forward to a continuous working partnership," Dhamgagolla added.