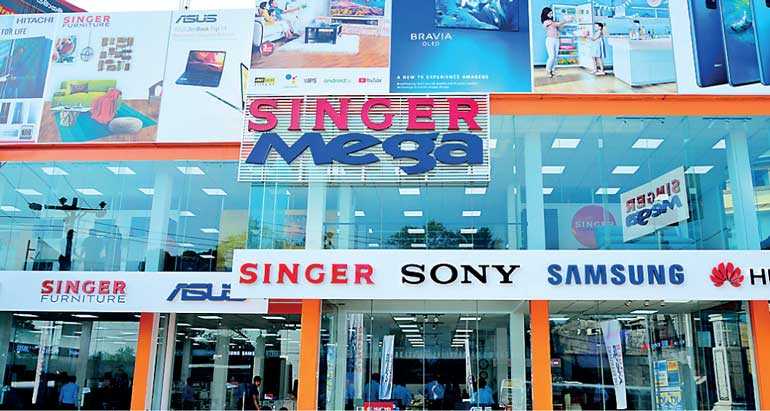 Positions itself 11th Best Listed Company in Sri Lanka
LMD's 'The 100 Club' honoured Singer Sri Lanka PLC by ranking the retail giant as the sector leader in the trading segment recently. Celebrating a legacy built on consistent vision, quality product and brand promise delivery and enhancing overall customer experience, Singer also managed to secure the overall number 11 spot amongst all other listed companies in the country.


Singer Sri Lanka continues to strengthen its position in the industry as the leader in the nation's appliance retail through overall retail presence, globally recognised brands and a product portfolio that is well-accepted by consumers across the country. Since the company's inception 142 years ago, Singer has cemented a solid management structure with special focus on the areas of sales, supervision, finance, credit management and services.

For 13 consecutive years, Singer was crowned the 'most popular brand' voted by the people, which stands testimony to Singer's connection with all Sri Lankans across multiple demographics and segments. Presently, the company is extensively working to elevate the overall retail experience of their consumers. Singer concurrently markets over 50 globally-renowned brands, and is also continuously on the forefront of acquiring other complementing brands and businesses to the Sri Lankan market.

Commending their recent achievement, Singer Sri Lanka Chief Executive Officer Mahesh Wijewardene stated, "Amidst challenges and changes in the market, Singer's endurance as a listed company is phenomenal, owing to the shared vision of the management and our team members. This factor has been significant in propelling the brand name as the foremost consumer durables retailer in the country and positioning it as a multi-product and multi-brand retailer."

Initiatives to implement an advance retail experience are currently underway, with plans to develop and enhance Singer retail outlets spread across the country. "Our present focus is to bring in a more customer-centric experience by uplifting services provided by our front-end staff as well as our call centres. Through this type of progression, we look forward to providing consumers with a shopping experience that will take on a more personalised and friendly approach in order to ensure a more fulfilled shopping experience," Wijewardene added.In an era of fast-changing technology and lifestyles, the buoyant Singer Sri Lanka has identified the role played by e-commerce. The company will be focusing extensively on e-commerce with a vision of further adding a level of convenience for their loyal customers. Since technology will also be heavily incorporated towards realising this goal in order to boost customer service, geo-mapping is yet another aspect which will be looked into with the aim of introducing a more proactive role in servicing.

"We will connect much closer with the public as a one-stop shop that will provide a holistic experience, clearly differentiating our brand. Plans are underway to further incorporate shopping into utilising financial services and much more, together with partnerships and associations. Apart from that, we are also delighted to disclose that Singer will also be the exclusive electronics and electrical appliances retailer to be established at the much anticipated Shangri-La Mall, which is scheduled to be launched in October this year," Wijewardene further said.

Singer Sri Lanka is renowned for offering consumers a wide range of top-quality international brands, engaging with its consumer base through the largest distribution network in Sri Lanka of over 450 retail stores and 2,800 dealers spread islandwide, and an equally-established after-sales service network.