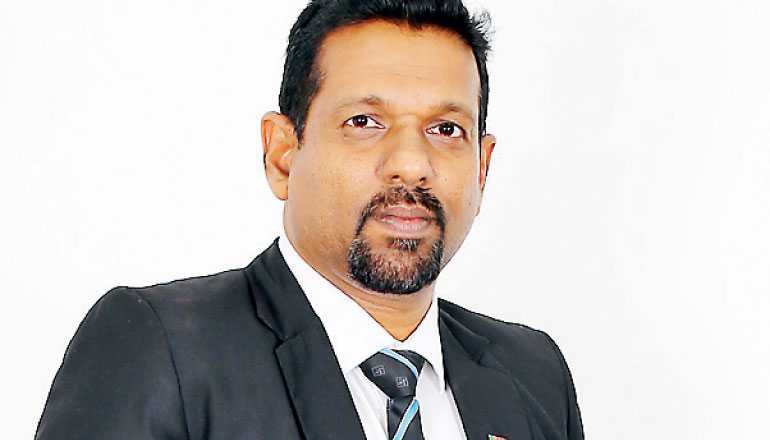 SLIM President Roshan Fernando
---
COVID-19 did not only affect the health of the people, but also affected the health of nations, crippling its living force as well as the economies of countries. To counter this crisis, a national campaign under the theme 'Restart Sri Lanka' was born, a brainchild of the country's national body for marketing, the Sri Lanka Institute of Marketing. Explaining what 'Restart Sri Lanka' is and its objectives, SLIM President Roshan Fernando speaks about the short and long term initiatives and beneficiaries of the project.

Fernando formally served as Vice President – Education, Vice President – Projects, Secretary, and Treasurer of the Council of Management of SLIM. He was also instrumental in implementing the Corporate Governance Policy at SLIM. He served as a member of the Export Development Board Technical Evaluation Committee for the Indian market entry study for Sri Lankan businesses and is a Board Director of the South Asian Business Association of Home-Based Workers. Fernando was also appointed to the evaluation panel by the Sri Lanka Inventors Commission to evaluate COVID-19 related inventions. He is currently serving as the General Manager for Derana/Power House Ltd.

Following are excerpts:
---
Q: SLIM celebrates an important milestone this year; its 50th anniversary. Can you briefly explain what SLIM's role in general is?
SLIM was established in 1970, and was incorporated in a Parliament Act in 1980. We have stood by our vision of leading the nation towards economic prosperity through marketing for the last 50 years. With the vision of SLIM 'To Lead the Nation's Efforts towards Economic Prosperity', our most important priority is that we contribute to the nation and the fraternity, and to its economy through marketing by uplifting the businesses and SME sector. Through the Education arm of SLIM we produce around 1,500-2,000 professionals to the industry every year. In addition, we have five national level events.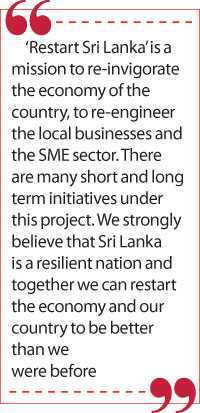 Peoples Awards has been conducted for the past 14 years with Nielsen Research Sri Lanka and it's the only people's choice awards we have conducted in Sri Lanka. SLIM NASCO Awards is to create sales leaders in the industry. It has been done for the past 19 years. Effie, the global award show that measures the effectiveness of advertising has been held continuously for the past 12 years and Brand Excellence is the only platform to recognise brands and help them reach the global platform for last 18 years. We recently started the SLIM Digi Awards having understood the importance of digital marketing. According to our mandate we have been contributing substantially to the economy as the leading institute for marketing over the 50 years.


Q: How has COVID-19 affected your line of work at SLIM?
During this time, we operated the new normal the SLIM way. We conducted trainings and educational activities throughout this period. Now we have started the D-SLIM project. We are further looking at how we can conduct our national level events. We are ready to fight the post COVID challenge and be well equipped to face the future. During COVID-19, we taught the SMEs to use their limited resources effectively during the COVID-19 pandemic. The small and medium enterprises and local businesses contribute to 52% of GDP. Our mandate is to uplift them and take them to the next level.


Q: You had a lot of plans to celebrate the 50th anniversary and you had to change these plans. Why did you change them and what are you doing in place of that?
The 50th year of operations is a milestone in any organisation. We had so many initiatives planned for the year to celebrate 50 golden years of service by the national institute for marketing. We have a major role to play to re-engineer and reinvent businesses to revive the economy. Therefore we decided to set aside all the gala events, experience sharing forums and international conferences. Because the entire world came to an economic standstill during this COVID-19 pandemic the Executive Committee unanimously decided not to spend on events for 50th year celebration, but do something for the country. It was with this in mind that we met the Prime Minister where we also donated to the National Fund to Eradicate COVID-19. We discussed what could be done by SLIM and that was the birth of the Restart Sri Lanka national initiative.


Q: SLIM too must be facing a financial crisis like all other organisations. However, you have decided to take on this national responsibility. Why?
SLIM was established as a non-profit organisation. Our vision is to contribute to the economic prosperity of the country through marketing. As a nation we have fought a 30-year war, we faced a tsunami, we had the Easter attacks, but we strongly came back from all of them. The Kantar COVID 19 barometer says that 81% believe that Sri Lanka will come back, and 93% believe that we are managing the situation very well, compared to other countries. So taking this into account, we thought we'll come up with a national initiative to restart the country. Our economy is the engine of the country. This engine has stopped for a moment. Now it is the time for it to be restarted.


Q: So what is 'Restart Sri Lanka'?
This is a mission to re-invigorate the economy of the country, to re-engineer the local businesses and the SME sector. There are many short and long term initiatives under this project. The first step was to go for a change of mindset. We experienced many calamities. It made many corporates and multi nationals to take negative decisions. There was a negative trend building in the economy and society and we had to change it. We got Kumar Sangakkara, one of the strong opinion leaders in the country, who willingly contributed to promote this initiative. SLIM is grateful to him. We communicated that we have to restart the economy that was at a standstill, and invited businesses to join us to restart the country's engine. Now this concept has taken root and we continue to develop it.

The second stage is all about initiatives. We considered five pillars in the economy to develop. The first sector of the economy is the business sector for which we have planned to launch a series of programs to develop human potential. We are also launching a national business guide for sales and marketing. Another factor is that the contribution of women in the corporate world is increasing. We have to encourage this as the corporate woman plays a major role in this economy. We have a program 'Leading Liyo' to inspire and encourage the younger female generation.

The second pillar is Micro, Small, Medium Enterprises and inventors sectors, we are conducting national consultation services for SMEs because we have the expertise in our membership. We linked the SMEs and our membership and have seen that it works successfully. Now SMEs are finding new ways of doing business. Industry specialists are there to guide them on how to manage this situation. Further, the SME Development Awards show will be held on December 2020. A micro level development program named Liyaka Mahima to uplift and developed home based female entrepreneur will also be held. In addition, the launch of 'Made in Sri Lanka' in collaboration with Sri Lanka Inventors Commission (SLIC) to give support and build marketing oriented platform to commercialise their inventions will be initiated.

The third Pillar is the Youth sector. We started School Entrepreneurship Societies for all Commerce streams schools in the island. Through this, we will bring the entrepreneurial skill development into the class room through implementing the activity based learning model.

We will also start a project called RUN in schools. RUN stands for Responsibility, Unity and National Pride. The program is mainly highlighted on environmental sustainability and encouraging future leaders to be more sensitive to the environment because when such sentiments are diminishing in the digital age, we have to bring them back to life.

We have to rise as one nation and we have to groom this thought in our future generations. For this we have partnered with the Mother Sri Lanka organisation. In addition, we will do a national career guidance program with the help of various industry experts to help students identify their talents and skills and guide them to pursue their dreams.

The forth pillar is Nation branding. The Asia Marketing Federation AGM will be held in Sri Lanka in November, bringing together delegates from 17 countries. We will also continue Brand Week, the national symposium where regional business leaders will come to Sri Lanka to conduct experience sharing to our corporates. Another key event will feature Jorden Belfort, the Wolf of Wall Street, which will be held in March 2021.

The final pillar is setting up a Knowledge Economy. We have planned the South Asian Journal for Marketing (SAJM), a research journal that will be launched in July, and the SAJM symposium in December. All these steps are to create and lead to a knowledge economy. These are the long term sustainability projects under Restart Sri Lanka.

We strongly believe that Sri Lanka is a resilient nation and together we can restart the economy and our country to be better than we were before. SLIM invites all corporates and organisations to join us in this national initiative because we all have a part to play.