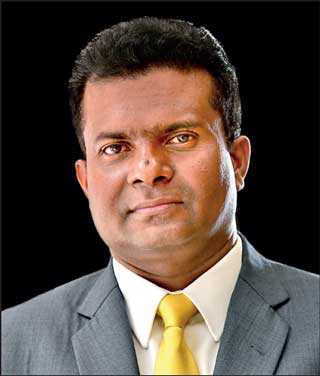 Business Economist Mangala Perera
Business Economist  Mangala Perera shares his views on the current market and business setting, how organisations can leverage on their strengths in order to thrive and prosper amidst this challenging environment. With over 20 years of cross industry experience across the board at senior levels in marketing and general management, both locally and internationally, Perera currently functions as the Executive Director of C.W. Mackie PLC Group of Companies and also as the Managing Director of Sunquick Lanka Ltd., a subsidiary of Co-Ro A/S, a Danish based MNC. 
Q:  With the ongoing pandemic situation which has been around for more than one year now, do you observe any changes in Sri Lankan consumer behaviour patterns?
 Well, as all of us are very well aware, this pandemic situation has resulted in a significant dramatic impact on the country's overall economic, financial, social, cultural spheres to a great extent. The Gross Domestic Production (GDP) recorded a negative growth of (-3.9%) (estimated) during 2020 where we witnessed a negative GDP growth after a period of 19 years (last recorded negative GDP growth of (-1.5%) in 2001 as per published statistics. 

From a production and service delivery perspective, due to the country lock-down which occurred during March/May 2020 and again to a lesser extent in many parts of the country in September/ October 2020, coupled with curfew imposed in several provincial areas from time to time, caused a major impact on manufacturing and services sectors in the country. Manufacturing firms such as, garments, food and beverages and wholesale, retail trade activities as well as most of the service delivery sectors and construction sectors were severely affected resulting in a significant drop in production. 

Furthermore, the overall social and cultural fabric of this country witnessed significant challenges, where we observed substantial employee lay-offs, salary cuts in the formal manufacturing sector business entities, significant re-alignment of business operations of some of the well-established business firms for cost saving purposes and shut down of business operations especially in the Micro, Small and Medium Enterprises (MSMEs). Henceforth, the total income levels of the general public were drastically affected during this pandemic period which pave the way to a lower level of disposable income of consumers. Accordingly, consumers naturally cut down their spending on non-essential items and focused mainly on purchasing essential goods and services. The impact of this demand shock due to reduction in consumer spending during the first wave of the pandemic (March-May 2020), we witnessed a notable drop in consumer demand for non-essential FMCG food and beverage items. However, it is also important to mention that within the FMCG sector, we have witnessed a noteworthy shift in the consumer buying behaviour patterns, due to the on-going pandemic in the country. 
Q:  What sort of shifts have you observed in consumer buying behaviour patterns during this pandemic?
 We have observed a significant growth in biscuit and snack category, reaching an annualised growth of 30%- 35%, especially in this category since majority of school children are at home and attending on-line school lessons as well as private tuition lessons for long hours on a daily basis. On the contrary, the demand for carbonated drinks, soft drinks, cold beverages and ice creams have drastically come down, mainly due to health concerns, I suppose, since health experts are stressing on avoiding consumption of cold products and to consume warm liquids and food during this pandemic.

Further, we have also observed that consumer expenditure earlier spent on, holiday travel and leisure; foreign travel; entertainment; clothes; shoes; accessories and specially on officewear (since most employees tend to wear casual clothes when reporting to office and also due to work from home arrangements in most private and public institutions) have also drastically come down during this pandemic period. This factor has become a blessing in disguise for the FMCG category, where we see majority of the consumer income earlier spent on above activities are now shifting towards buying more FMCGs. In addition, consumer demand for personal care products and home care products such as hand sanitisers, face masks, face shields, hand gloves, carbonated soaps and shampoos, home cleaning liquids and detergents witnessed an exponential growth during the pandemic period compared to the negative and moderate growth rates reported during the past four to five years. Also, we observe that since many people are spending more time at home rather than going out during holidays and weekends, there is an increased tendency for consumers to spend their income on FMCG products and a shift towards branded consumer goods is also observed moving away from street foods and other unbranded items. 
Q:  In your view what do you think the most appropriate business strategy during this highly unpredictable environment which we are currently facing?
In my personal view, I think we are facing a black swan crisis at present. In such a situation, I always encourage my team to focus on the two Ps; Protect and Pivot. Which basically means protect the core and pivot to new opportunities.  For an entity/firm to prosper and thrive during any type of business disruption, may it be due to natural and/or man-made disruptions, the most vital strategies would be to manage the core business and realigning the existing processes within the business entity to effectively deal with any type of disruptions, planning for  future business opportunities amidst an unsettling business atmosphere and also be very mindful of effectively managing the entity's fixed and variable costs to the highest possible extent. It is vital that the company's C-suite Officers are more focused on above two strategic elements to move the company forward during this type of a pandemic situation.

Operating amidst an on-going crisis, such as this health pandemic, transforms a company into 'war-fighting mode'. If any top performing business entity is ready to answer the questions of: do we have the right set of planning scenarios; do we have a flexible set of response models to react; do we have enough strategies to operate during crisis periods; do we have pre-designed channels to manage operations and communications and do we have access to similar simulation exercises, then such business entity should not worry about carrying out their business operations during a crisis situation.
Q:  During this COVID-19 crisis how do you all align your organisation to sustain the negative impact from the outbreak and what are the strategies that you have taken to adopt to a new normal? 
Yes, we do work from home, but can we run a factory from home? Can we do our logistics like loading, unloading, delivery from home? No. We need human intervention. So what we did was we analysed and assessed the impact and we took several strategies. 

We had a solid COVID response plan for our staff who reports to work. We first prioritised our employees' wellbeing and then we assessed the impact and worked backwards. From March to mid-May 2020, our factories were closed but we had to pay our staff salaries and all our other fixed expenses. We cannot compromise on that. Not only our sales but our cash flows, our working capital management was drastically affected. Our recoveries were poor. We knew that our customer's income levels would definitely decline which will change their disposable income, which will then lead to a change in their consumer behaviour. 

After assessing these factors, we understood that we cannot recover our lost sales volumes in the upcoming months. So we worked backwards and re-engineered our business processes to increase our cash flow and strengthen our working capital. We increased the debt recovery and we cut down on unnecessary costs. That doesn't mean we sacrificed our employees' salaries. We never compromised on that and we didn't allow the pandemic to sink our corporate culture. There was not a single lay-off of our staff members including minor employees. 

We realigned our processes to manage the cost and I am happy to say that we are aligned with our profit budget, not the sales budget due to the reduction in sales units. And most importantly we were able to maintain the increments for our employees and we were also able to give the two bonuses during 2020.
Q:  How do you predict the outlook for the next six-month period?
 When it comes to the FMCG sector we observed a 'V' shape recovery subsequent to the first wave of the pandemic. Industries, industrial product related trading activities, commodity trading and export sectors all recorded notable growth rates during 3rd quarter 2020. As per published data by ACN, all three sectors in the economy recorded a growth of 1.5% for Q 3 2020 out of which agriculture sector recorded a growth of 4.7% during this quarter. Even this year 'Maha' season 2021, which has already commenced, is projected to be a bumper harvest due to satisfactory weather conditions and also underpinned by more favourable Government policies towards this sector such as guaranteed price for paddy which will ensure a stable income flow to the farmers. Accordingly, this will have a very reassuring effect especially for the agriculture based rural economy. Henceforth, this will have a trickle-down effect on the retail, wholesale, trading activities and this will be further enhanced with the upcoming Sinhala and Tamil New Year season in April 2021. 

Furthermore, Government monetary policy reforms such as maintaining  stable low interest rate for a considerable period, maintaining single digit inflation rate for a longer period, fiscal policy reforms, significant amendments to the tax regime, greater government assistance towards developing the SME sector, Government support towards developing export oriented industries, import substitution industries, support towards value-added industries, as well as unprecedented measures implemented by the Government  to revive COVID affected businesses and individuals by way of direct cash stimulus programmes, re-financing facilities for COVID affected industries and small businesses, debt moratoriums for individuals and industries, etc., all these strategies adopted by the Government will definitely contribute towards achieving a notable growth in the overall economy when compared to the previous six months.