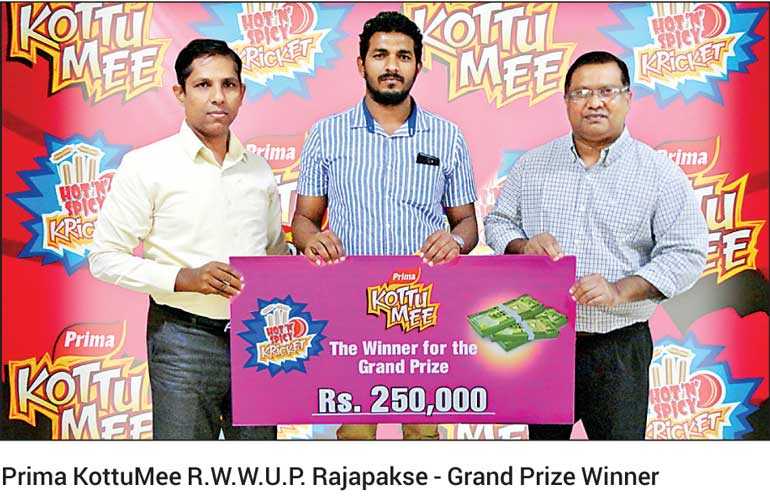 Prima KottuMee recently concluded yet another successful 'KottuMee Hot & Spicy Kricket' promotion. The prize giving ceremony took place at Ceylon Agro Industries on 21 November.

The promotion commenced on 1 October as a means of amplifying the excitement during England's tour of Sri Lanka. Running throughout the month of October, the promotion required consumers to SMS the code found inside each packet of Prima KottuMee to 2343 in order to stand a chance to win amazing prizes.

Three daily winners were selected throughout the month to win Smart Watches (Fitness Bands), while the eight weekly winners for the four weeks were rewarded with Samsung smartphones. Four more lucky weekly winners walked away with a cash prize of Rs. 50,000 each. The Grand Prize Winner received Rs. 250,000 at the end of the month.

The winner of the Grand Prize was R.W.W.U.P. Rajapakse from Monaragala, who received a handsome total of Rs. 250,000. "I was in a state of disbelief when I first received the news that I was the Grand Prize Winner of the KottuMee Hot & Spicy Kricket promotion. I'm grateful to Prima KottuMee for this stroke of good fortune. I have been a fan of Prima KottuMee for a long time and I'm very happy that my loyalty has been rewarded in such a way," said Rajapakse.

Prima KottuMee's fun loving nature continues to make the KottuMee Hot & Spicy Kricket promotion successful every year, while rewarding the brand's loyal consumers.