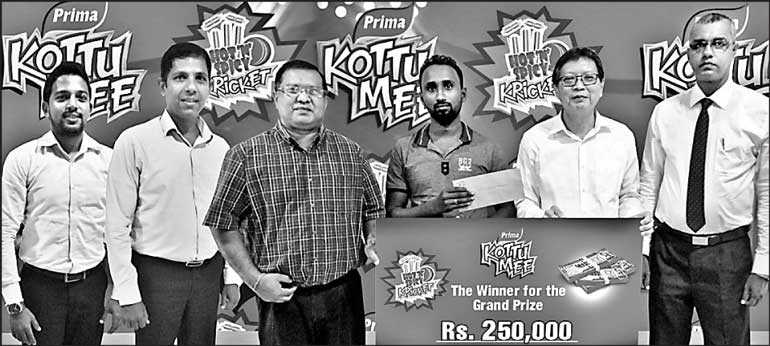 .3
From left: Ceylon Agro Industries (Prima Group Sri Lanka) Brand Manager Achala Ramanayeka, Ceylon Agro Industries (Prima Group Sri Lanka) Senior Business Manager Donavan Ondaatje, Ceylon Agro Industries (Prima Group Sri Lanka) Deputy General Manager Sajith Gunaratne, Grand Prize Winner D. R Kasun Malinda Suriyawansa, Ceylon Agro Industries (Prima Group Sri Lanka) General Manager Shun Tien Shing, and Department of Revenue (Western Province) Senior Tax Officer J.M.D.M. Dayarathna
Prima KottuMee recently concluded the 'Hot N Spicy Kricket' promotion for the year 2019. This year, the promotion was in play for not one, but two whole months in order to award the brand's loyal customers. Beginning on 1 June and ending on 31 July, the promotion brought with it the chance for fans all across the island to win awesome prizes on a daily, weekly and monthly basis. The promotion was held concurrently with the Cricket World Cup, thus adding a touch of the KottuMee spice to the excitement.

Consumers were required to SMS the unique code found inside each packet of Prima KottuMee, to 2343 in order to stand a chance to win amazing prizes. This resulted the accumulation of more SMSs than ever expected, as fans were extremely eager to join in the fun. Three daily winners were selected throughout the 2 months to win Smart Watches (Fitness Bands) while the two weekly winners received Samsung smartphones. Eight more lucky weekly winners walked away with a cash prize of Rs. 50,000/- each. The Grand Winner who received a handsome cash prize of Rs. 250,000/- was D. R Kasun Malinda Suriyawansa from Aranayake.

Prima KottuMee's fun loving nature continuously makes the 'Hot N Spicy Kricket' promotion successful throughout the country every year, proving that the brand is loved in every corner of Sri Lanka.