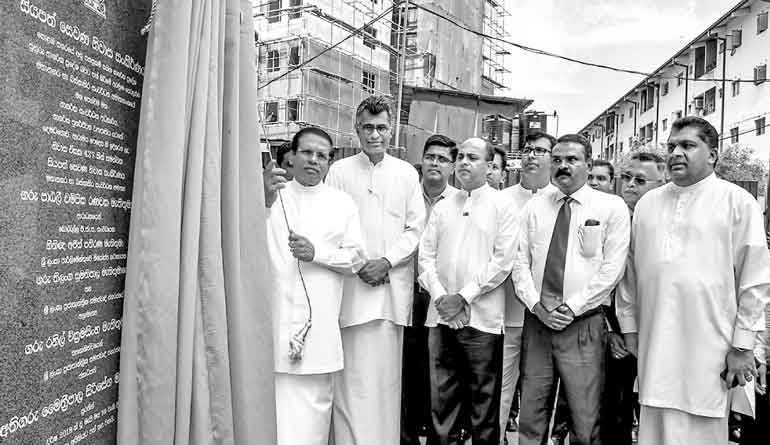 President Maithripala Sirisena this week declared open 437 houses constructed under the 'Niwasak Wenuwata Jivitayak' program implemented by the Ministry of Megapolis and Western Development and the Urban Development Authority, at the new SiyapathSevana housing scheme in Dematagoda.

This housing project is being implemented with the aim of providing better housing facilities to underprivileged people within Colombo.

This housing project was launched under the program to settle over 50,000 families living in 1,500 dwellings, under minimum facilities in Colombo city, in apartment complexes with all facilities. The housing complex has been constructed at a cost of Rs. 1,748 million.

Under this program 1,874 houseswere built at a cost of Rs. 7,496 million during 2016 and 2017 and handed over to the people. In addition, by the end of May 2018 another 1,439 houses built at a cost of Rs. 5,756 million handed over to the people.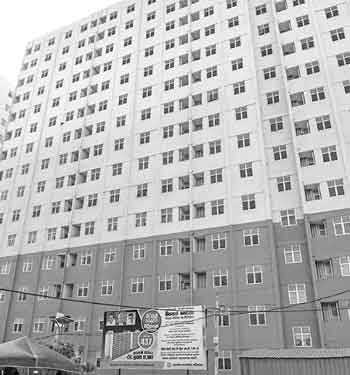 The Urban Development Authority is presently constructing 9,100 houses at a cost of Rs. 42,330 million, with the aim of handing them over to the public by 2020. These housing complexes will be constructed in the areas of Henamulla, Dematagoda, Angoda, Mattakkuliya, Maligawatta,Kolonnawa and Bloemendhal.

The new housing complex not only offers the opportunity to live in a new house, but also opens a new life as community development programs uplift the livelihood of the people and provide opportunities to develop skills in sports, education, health and leadership.

The President, who assigned the new housing complex to the people by unveiling the commemoration plaque, later engaged in an observational tour of the complex.

The 'Suhuru Childhood Development Centre' in the housing complex was also observed by the President.

Then the keys of 10 houses were handed over to the owners of the houses symbolising the assigning of new houses to the owners.

Minister Patali Champika Ranawaka, Deputy Minister Lasantha Alagiyawanna, Member of Parliament S.M. Marikkar, Mujibur Rahuman, Western Provincial Councilor Nishantha Sri Warnasighe, Chief Organiser for the Borella Electorate Attorney-at-Law Ajith Pathirana and Urban Development Authority Director General Sumedha Ratnayakeas well as other public officials were present at this event.