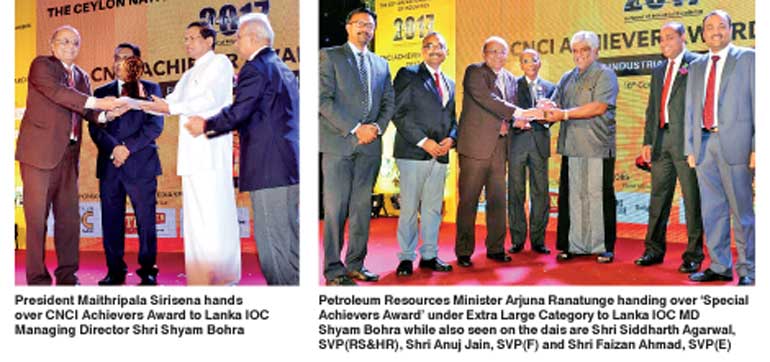 Lanka IOC wins coveted CNCI National Achievers Award 2017. In a glittering ceremony held at Hotel Galadari, President Maithripala Sirisena handed over CNCI Achievers Award Trophy to Lanka IOC PLC Managing Director Shyam Bohra. The Ceylon National Chamber of Industries declared Lanka IOC PLC as winner of Bronze award under Extra Large Category in Service Sector. The Chamber lauded the commendable work done by Lanka IOC in the petroleum sector and made a mention of its contribution in the economy of the country. Lanka IOC is the No. 1 listed company in petroleum sector in Sri Lanka. Looking at its contribution to the sector and the excellent performance during the year, Lanka IOC was also conferred 'Special Achievers Award' under Extra Large Category. Managing Director Shyam Bohra, along with Lanka IOC team received this award from Minister of Petroleum Resource Development Arjuna Ranatunge.

CNCI, the Ceylon National Chamber of Industries, the premier industrial chamber in the country was formed in 1960 and established by a special Act of Parliament. It is the pioneering Chamber for Industries in Sri Lanka (Ceylon) established after the independence, and annually offers the opportunity to the entrepreneurs in the industrial sector of Sri Lanka to vie for honours for their achievements in the fields of manufacturing and service industries. CNCI awards are among most prestigious awards in Sri Lanka and are awarded for Industrial Excellence every year.

This is for the first time that Lanka IOC could win this prestigious CNCI Achievers Award since its presence in the country. Speaking on the occasion, Lanka IOC MD Shyam Bohra dedicated this award to Team Lanka IOC and stated that this award is result of excellent team work and is an important milestone in the history of Lanka IOC PLC. He further stated that this award is testimony of the hard work done by Lanka IOC in petroleum retailing and contribution made by it in transformation of the sector. This award further strengthens their resolution for continuous improvement in our processes to better serve our customers and the nation.