Plans pilot project in four key cities
Packages to be delivered by postmen on electric motorcycles
Plans to introduce app for courier services
The Government has decided to set up courier service in four key cities to deliver packages through postal offices and provide electric motorcycles to postmen to deliver packages.

Speaking to reporters at Media Ministry, Communication Technology State Minister Lakshman Yapa Abeywardena said the move is intended to reduce the Postal Department's losses and upgrade its services to meet international standards.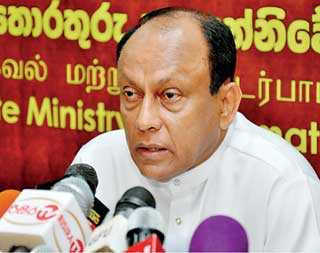 Media Ministry, Communication Technology State Minister Lakshman Yapa Abeywardena
"Letters decreased drastically during the last few years. As a result of that the Postal Department should upgrade its services to face new challenges and increase its profits. Therefore the Government has decided to introduce a new courier service," he said.

Abeywardena noted the courier service will be setup in Colombo, Kandy, Galle and Kurunegala as a pilot project within two months. The pilot project will be studied by the Government before deciding to expand the service to other areas, he said.

Sri Lanka Telecom will provide the online platform to digitise the service to track packages throughout the delivery process. "We will update the sender and receiver via text messages and a new mobile app will also be introduce to track the packages. Once this service expands to the entire country, the public will be able to hand over their packages to the nearest post office to be delivered to the receivers door step," he added.

He noted the Postal Department would be able to provide the courier service at a lower price than other courier service providers given its wide network and number of postmen. "We will be able to deliver packages from EBay, Alibaba and other online shopping websites this will revolutionise the entire postal department and will be less burden to the Treasury."

Abeywardena also pointed out that the Government would expect to provide electric motorcycles to postmen to increase efficiency of delivering postal articles. He pointed out that the Government also expects to adopt modern technology to deliver postal articles.

"Many countries use not only vans but also drones to deliver packages to remote areas. In the same way the Postal Department of Sri Lanka has introduced several services such as Speed Post Courier Service, Logi Post for the development of distribution of postal articles." Charging points will be setup in every post office and electric motorcycles will be given to postmen on the basis of getting ownership to them. According to Abeywardena, the Government intends to provide tax relief and a loan facilities through National Saving Banks. The Cabinet paper in this regard will be presented soon.