By Frances Bulathsinghala

Dawn.com: Prime Minister Shahid Khagan Abbasi has invited Sri Lankan businessmen to see for themselves that Pakistan is not 'what the West portrays', declaring that 'Pakistan is not what one sees on CNN'.

"Pakistan is a vibrant democracy with a vibrant press and its foreign investment policies are liberal, apolitical, non-partisan and consistent," the prime minister said.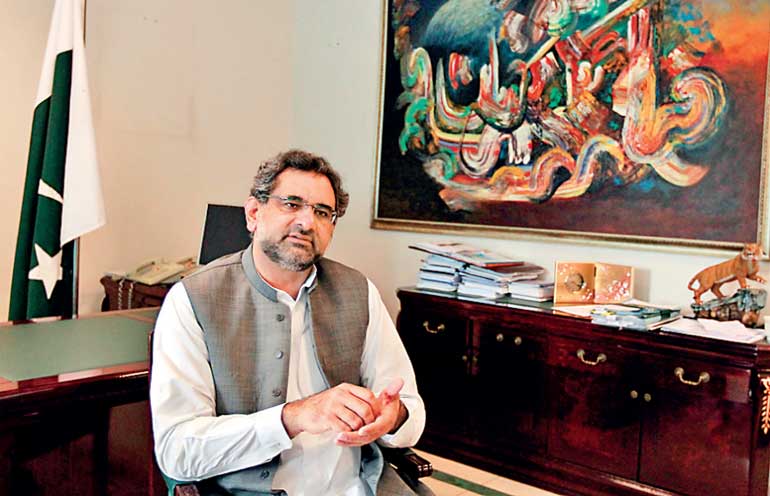 Prime Minister Shahid Khagan Abbasi
Abbasi made these comments in a video message on the opening day of the Third Pakistan Single-Country Exhibition in Colombo on Friday. While inviting Sri Lankan businessmen to trade with and invest in 'emerging Pakistan' the premier said that Pakistan is a robust economy holding much promise for international investors and is hardly like the way it was projected in the Western media as a place replete with terrorism and violence.

He said that the Pakistan economy registered a growth rate of five per cent and was aiming 7pc target with a higher foreign investment.

"There is not a single case of a foreign investment in Pakistan which has not made money," Abbasi said, adding that Pakistan had the highest consumer growth rate in the world at 8.3pc. He further said that Pakistan had won the 'war against terror' with courage and sacrifice.

Pakistan's single-country exhibition held for third consecutive year was inaugurated by Sri Lankan President Maithripala Sirisena. Among dignitaries present were Sri Lankan cabinet ministers Sarath Amunugama, Arjuna Ranatunga, Champika Ranawaka and Rishad Bathiudeen, Pakistan Minister of Commerce Pervaiz Malik and High Commissioner of Pakistan in Sri Lanka Dr. Shahid Ahmad Hashmat.

Malik said that the existing Free Trade Agreement (FTA) was an opportunity for improving bilateral trade and urged businessmen and entrepreneurs from both the countries to hold consultations for promoting economic ties.

With Sri Lankan economy expanding at 6pc, the $1 billion bilateral trade target, set in 2016, was achievable as investment opportunities in Pakistan were expected to increase manifold with the China-Pakistan Economic Corridor (CPEC) coming up, Malik said.

Rishad Bathiudeen, commerce minister of Sri Lanka, stated that he was hopeful of achieving the target. He pointed out that in entire FY17 the bilateral trade was $368 million compared to $250m just in the first half of FY18.

Hashmat said that the interest of Pakistani entrepreneurs in Sri Lanka has increased significantly as over 134 companies were participating in the expo this year.

He said the single-country exhibition was to become an annual event. A highlight of this year`s exhibition was the stall featuring Pakistan`s Buddhist heritage.

The Trade Development Authority of Pakistan (TDAP), in association with the High Commission of Pakistan in Sri Lanka, had organised the third edition of Pakistan Single-Country Exhibition from 12 to 14 January that coincides with a Pakistani Food Festival.

The exhibition features leading Pakistani companies and manufacturers of engineering products, auto parts, agro products, textile and clothing, designer wear, handicraft and traditional textiles, pharmaceuticals, cutlery, furniture, carpets, marble and services.