The country's pioneer online procurement service provider Omentra.com, kicked off their first event of their innovative and interesting talk show series titled '58 Minutes With'; a sold-out event at the Royal College Skills Center in Colombo. This was the very first talk show series to be launched by a corporate entity in the country.

The talk show comprised of a 58 minute keynote by Ajit Gunewardena, Chairman of Blue Stone Capital and Investor and Chairman of PickMe (Digital Mobility Solutions Lanka Ltd.) on the topic of 'Being A Disruptive Corporate Executive'.


Evolve or die
Gunewardena in his address said, "Being disruptive means producing innovative brands that creates a new market, eventually disrupting an existing market, displacing established market leaders. Being disruptive isn't about change for the sake of change. It's about integrating change into the modus operandi of a company and always testing to make sure the companies strategies are still effective in an exponentially accelerating and changing market landscape that will be dominated by Artificial intelligence (AI) and Internet of things (IoT)."

He further explained, "Consumer behaviour is constantly evolving. People are consuming more content on their mobile devices than they are on their TV and computers. The activities you're doing now in your business should be different than they were last year because things change that fast. What worked a year ago isn't going to work the same today, tomorrow, or next year. If the decisions you're making aren't in line with your customer's needs, then they don't matter."

He noted, "Therefore being disruptive will mean getting used to incredible levels of uncertainty. There's a certain method to the mayhem of navigating continuous changes and to be a disruptive executive you need to know that the key to success lies in using insights and experimenting in order to chart a new direction. Embracing disruption means there's always a new normal for as long as it lasts. It means constantly modifying assumptions and adapting plans. This will need to be the standard practice in the future if you are to survive and sustain your organisations as disruption becomes the norm in the business environment."

Gunewardena cited examples from his own experience of investing in 'PickMe' that revolutionised the Sri Lankan taxi industry and their mantras of success that led to their rapid growth in the market.


The need to be agile
He outlined, "We realised that for us, being disruptive meant doing things better every day and getting rid of the pain points that existed in the industry at that time. We realised that we needed to be comfortable with the reality that in the face of change, the future is often hazy. This required us to anticipate disruptive events in the market and a willingness to respond to them, to be at the forefront, break the rules and nurture a healthy scepticism of best practices, whilst steadily steering the organisation along the right direction."

He affirmed that encouraging and developing teams that complement the business was also an ingredient of success. Another competency was to successfully engage with customers, suppliers, employees, and the broader ecosystem, and explore, discover, learn and discuss ideas to ensure a constant interchange of information that will give birth to further innovation. His overall take was that, "We can never stop learning and adapting with the need to be able to move quickly in order to remain relevant. Today there are only two options: be the disrupter or get disrupted."

The talk show ended on a high note with many of the participants posing questions and engaging in discussions on the topic.

With the success of the first talk show receiving a massive response and requests to have more of a similar nature in the future, Omentra.com plans to conduct their talk shows every two months. This would address relevant topics of importance related to the business landscape prevailing in the country. Enthusiasts of the '58 Minutes with' series can look forward to the next session in September.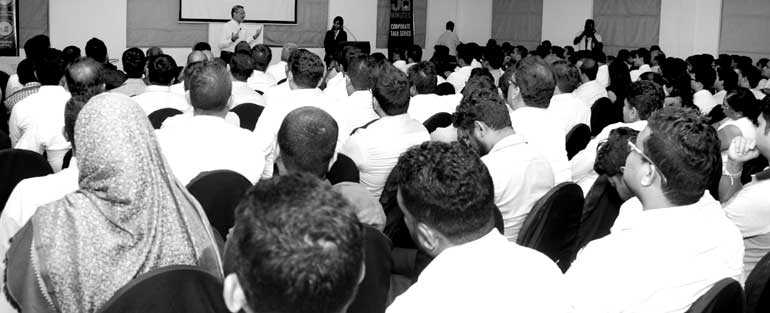 A rapt audience