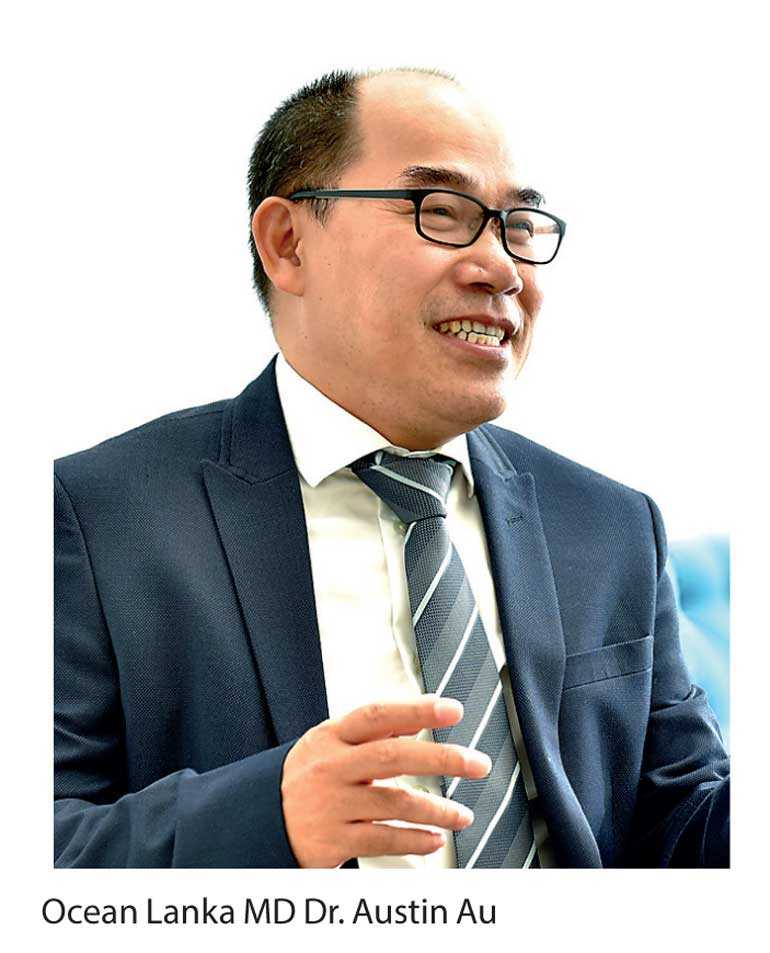 Ocean Lanka is acclaimed as one of the largest weft knitted fabric manufacturers in Sri Lanka meeting the rising demands of the European and US markets. Incorporating sophisticated modern technology and stringent practices in all tiers and across the value chain, Ocean Lanka has successfully maintained a niche in the export market as a supplier for world's leading brands. Expressing his views on the company's best practices and work ethics, Managing Director of Ocean Lanka Ltd. Dr. Austin Au elaborated on the key elements that support and sustain the premier fabric manufacturer. Following are excerpts:
Q: How do you best describe your products

and your market?
A: We are producing the weft knitted fabrics of all kinds including single jersey, rib, interloop, fleece, jacquard, ponte de roma. They come in solid shade, print, stripe and treated with different types of finishes such as super soft hand feel, antimicrobial, water resistant, dry fit and durable wash dimensions. We mainly export our products to the European and US markets, and recently expanded to Japanese and Austrian markets.
Q: What key drivers help your company stay ahead of the competition and deliver weft knit fabrics on par with

global standards?
A: We have a strong development team internally as well as the technical support and backing from our parent company – Fountain Set (Holdings) Ltd. in Hong Kong. We are capable of developing and producing any type of weft knitted fabrics to suit our customer's requirement. Our dyeing and testing laboratory has facilitated state-of-the-art machineries, and are accredited to the strict evaluation criteria for the major designer brands including Victoria's Secret, Marks & Spencer, Nike, Next, Gap, Adidas, Levi's, Tommy Hilfiger, Calvin Klein and UNIQLO.
Q: Can you elaborate on how Ocean Lanka applies sustainability practices in its manufacturing process?
A: We have been accredited with ISO 14000 since 2003 and were certificated by GHG Protocal (ISO 14064-1) in 2012. We have also obtained the 'OHSAS 18001' accreditation. These accreditations stand as testimony to Ocean Lanka meeting industry's best health and safety measures, ensuring the wellbeing of our employees. We have further obtained a number of certifications including G.O.T.S and BCI certifications, in compliance with the sustainable manufacturing requirements. Our company facilitates an in-house energy saving committee led by the senior management, where they convene monthly meetings to provide continuous improvement across all platforms.
Q: What are your thoughts on Ocean Lanka winning the prestigious 5S certification?
A: It's a significant achievement that reflects the company's outstanding performance and sheer commitment, the epitome of a success story of team effort. We have produced a conducive environment that fosters each individual towards building and executing a management system within our operational frame. We have also focused on adopting another vital management system called 'Total Production Maintenance (TPM)', which will provide the necessary management tools for boosting our production efficiency. As an environmentally conscious organisation, we plan to incorporate lean manufacturing in our operations, towards considerably minimising unnecessary waste.

Q: Being a company established for over 20 years, can you tell us about your employees and what motivates them to unify and strive towards a

common goal?
A: Loyalty is one of our core competencies. Our employees have developed a strong bond with the company, as well as among their colleagues. According to my purview, employees should love their work place, they should be proud of what they do, they should rejoice for the company's achievements or feel disheartened for the company's losses. We have continued to offer loyalty awards for our long-standing employees who have served us for 10 to 20 years. The program was initiated in 2006 and we have continued to uphold the practice to date. Our long standing employees have moved up their career ladder, and presently hold prominent positions within the company, as a result of the succession planning.
Q: What were the biggest challenges you faced in 2017?
A: In the first half of 2017, we faced a drastic drop in business due to the volatile nature of the European and US markets. As a result our returns turned negative. However, with the sheer efforts and commitment of everyone who worked with strong team spirit, we were able to turn the tide and regain our profits towards the second half of the year, and we have continued the momentum in 2018.
Q: What are your goals and priorities for 2018?
A: At present our internal departments are undergoing a restructuring process, in order to improve overall efficiency and productivity, while enhancing the sense of job ownership. Improved efficiency leads us towards achieving sustainable goals. This will not only generate positive results for the company, but will also make a positive impact on the society. I would like to see Ocean Lanka as the best fabric manufacturer in Sri Lanka, who has also significantly reduced its environmental footprint.