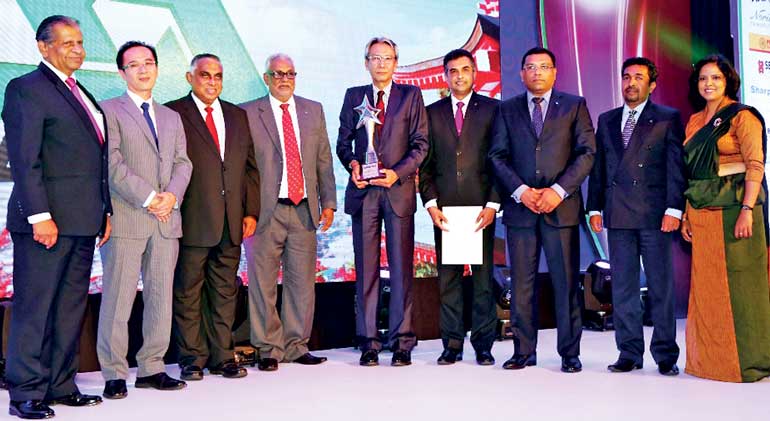 The 'Carbon Footprint Project' launched under the 'Go Green' concept by Noritake Lanka Porcelain (Pvt) Ltd (NLPL) was awarded the CSR/Sustainability Silver award at the recently concluded JASTECA Awards 2017.

"We are grateful for the recognition given to our continued efforts to aid the sustainable development of our country as it will have a long lasting benefit towards people and society in general," said Noritake Lanka Porcelain Deputy Chairman and Managing Director Yoshinari Shimaya. "The award further proves to our ever-growing customer base in every part of the world that NLPL is an establishment which has a primary responsibility towards the overall sustenance of humanity and this aspect is addressed through our CSR venture," he said.

In a bid to encourage public and private sector business entities to adopt and inculcate corporate social responsibility (CSR) as a part of their business policy, the Japan Sri Lanka Technical and Cultural Association (JASTECA) organised a competition titled 'JASTECA CSR Awards' to recognise and reward organisations for their efforts and commitment. This innovative initiative is conducted annually in memory of the Founder President of JASTECA, Ian Dias Abeysinghe. The objective in organising this event is to contribute significantly towards society, the economy and the natural environment by encouraging organisations to conduct CSR activities.

NLPL, as a symbol of one of Sri Lanka's leading corporate entities, places high value on conducting business in an ethical manner with the added obligation of launching initiatives that ensure the well-being of its employees, their families, the local community and society. Since the subject of climate change and global warming have become major issues in global business and with porcelain-ware manufacturing coming under strict supervision for being one of the main contributors to CO2 emissions, NLPL implemented the 'Carbon Footprint' which is the most viable mechanism to sustain in the global business.

The reduction of CO2 by 5% annually with radical changes in the technologies and actual product concept, as well as in the available energy sources and 0.50% of CO2 fixation in year 2026 by growing native trees in the Knuckles mountain range, turned out to be the most environment innovative activity of NLPL. This project widely stretches other benefits such as protection for clear and perennial waterways, clouds and endemic fauna and flora in Knuckles mountain range as it is a climatic microcosm of the rest of Sri Lanka.

Since its establishment in 1972 as a joint venture between the Ceylon Ceramic Corporation and the century old Noritake Co. Ltd of Japan, NLPL has achieved iconic status as a pioneer porcelain tableware manufacturing company in Sri Lanka. NLPL is globally recognised for its superior brand in more than one hundred countries across the world in addition to its dominance in the local market as the porcelain ware supplier to all the leading hotels in the island. With the production facility situated in the mineral rich city of Matale, it obtains the best materials to produce over 6 million pieces of porcelain-ware to global destinations and the local showrooms situated in Colombo 07, Taj Samudra Hotel, Pepiliyana, Wattala and Matale.