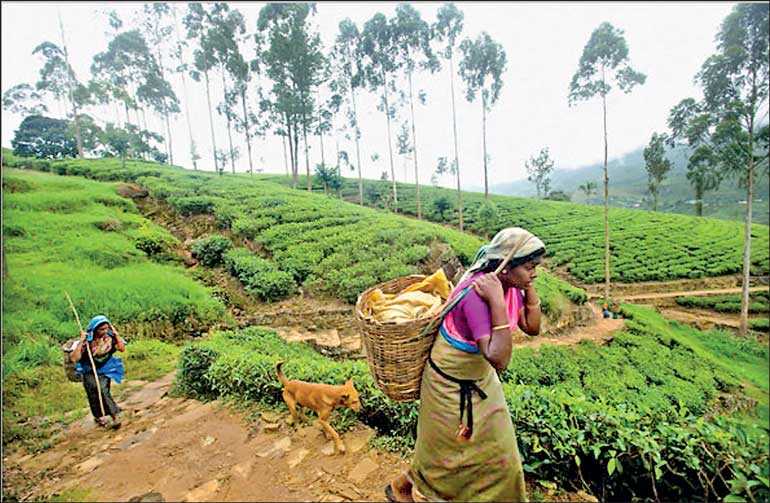 ---
By Charumini de Silva

Planters lamented that there is no breakthrough yet from the Collective Agreement discussions, with trade unions' demands for a Rs. 1000 daily wage continuing for almost for a month and the industry's losses topping over Rs.2 billion.

"Three months of negotiations over a the Collective Agreement have reached a complete deadlock, despite the industry having made concrete offers, which has been rejected by the trade unions who demand Rs. 1,000 per day plus EPF/ETF, regardless of productivity. The Regional Plantation Companies (RPCs) has offered the best, and it is up to the unions now to think rationally and come to a common understanding to accept it," sources told the Daily FT.

As of its last and final offer, the RPCs have proposed a 20% increase on the basic wage up to Rs. 600, a 33% increase in the Attendance Incentive up to Rs. 80, and a 20% increase in ETF/EPF up to Rs.90, in addition to the Productivity Incentive and Price Share Supplement, leading to a maximum total daily wage of Rs. 940, amounting to an average increase of Rs. 3,375 per month per worker.

"RPCs are not denying a wage increase; however, there must be consideration for financial viability. Current market dictates and prices at the Colombo auctions have shown a downward trend. It is undeniable to anyone that Sri Lanka suffers from the highest cost of production, and that the largest contributing factor is low labour productivity. We have tried to introduce dynamism into this system through productivity incentives that could enhance RPC revenues, and therefore support sustainable wage increases and investing into modernisation in operations. We should collectively work towards the long-term sustainability of the industry," he added.

It was pointed out that the tea smallholder sector which accounts for 76% of national green leaf production, is only offered Rs. 30 per kilo of green-leaf without EPF, ETF, maternity benefits, gratuity , holiday pay, attendance bonus pay, profit share, total maternal care, day care and all the other benefits offered by RPCs to their workers, in addition to the compulsory 300 days of work offered per year irrespective of the output of the workers, weather conditions, crop availability and the viability of the estates.

"Our offer is even far superior to tea smallholders, including the traditional facilities and additional allowances they are entitled to. We encourage the workers to be their own masters, rather than being shackled to this daily wage system," he stressed.

Furthermore, the industry stakeholders asserted that the auction prices for rubber have drastically declined to an all-time low of Rs. 240 a kilo, which five years ago was over Rs. 500. The Cost of Production (COP) against the current auction price is approximately Rs. 75 to 100 higher.