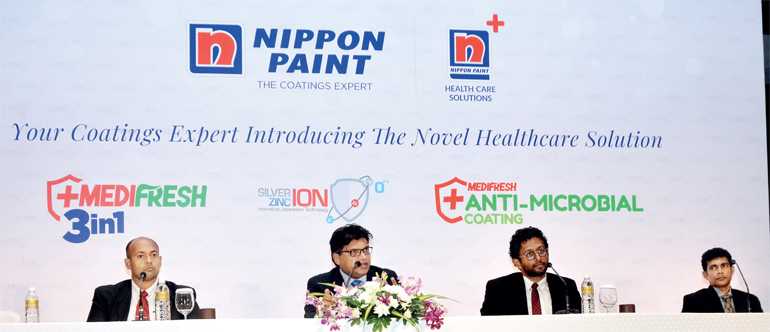 Nippon Paint General Manager Nemantha Abeysinghe (second from left) addresses the media. Others from left are Nippon Paint Healthcare Consultant Sampath Tennkoon, Head of Sales Mihiran Opatha and Head of R&D Chaminda Srinith - Pic by Upul Abayasekara
---
Nippon Paints last week launched what it called 'a third layer of protection' in transforming homes and office with safer and healthy coating solution.

This novel nanoparticle solution with its unique formula of silver ion and zinc ion combination has been tested and proven to be highly efficient and effective against a wide range of harmful microbial species such as bacteria, viruses and fungi that are infectious and contagious.

As you are already aware, most often, surfaces act as easy breeding grounds for pathogenic microorganisms and require regular sanitary and disinfecting procedures to be carried on a consistent basis in order to eliminate the same, which mostly has its limits.

Nippon said Medifresh antimicrobial healthcare coating provides a better hygiene and health assuring: Sustainable protection, preventing spreading harmful infectious diseases and elimination of microorganisms such as viruses, bacteria and fungus improving the indoor air indoor quality.

Medifresh healthcare coating is proven to be effective in inhibiting a wider range of infectious diseases caused by micro-organisms with its novel mode of action with silver and zinc ions being nonselective anti-microbial agents which does inhibits the growth of common microbials of viruses, bacteria, and fungus.

Medifresh is tested to be effective against influenza, HF&MD, MRSA and E-Coli, said Nippon. It is also effective an antimicrobial agent for a period of five years in the indoor environments. Another is Medifresh is easy to clean the surface with the properties of ease of washability

"The elastomeric property of Medifresh prevents hairline cracks in ensuring the surface is protected preventing growth of mould and fungus," said the company, adding that Medifresh is safer for both humans and animals and does not have any adverse effect with its anti-microbial properties.

Medifresh healthcare coating has two presentations that could provide decorative attribute as well as the flexibility in using general surfaces as a transparent protective coating.

The new innovative solution is ideal for healthcare institutions and service providers; hospitals, medical centres, laboratories, pharmacies; educational sector; schools, day care centres, nurseries and kindergartens, tuition centres, Sunday schools; services providing sector; banks, financial services providers, Government institutes ; health-conscious consumer segments healthcare sector; general public, family environments, elderly homes and children's homes.

The company said innovation ensures sustainable solutions for preventing spreading infections in the healthcare sector and living environment; improve safety for public through innovative solutions of quality and assured clinical success; protection for public and promote speedy recovery and better health outcomes in the healthcare sector and reduce risk and harm to both public, children, patients and healthcare providers.

The coating can prevent the spreading of infectious diseases in the area surfaces of primary contact points such as door handles, surfaces in reception areas and other counters are prominent to be contaminate by harmful germs; enclosed areas such as offices, resident areas, kitchens and food preparation restraints and lounges that are highly vulnerable with regular contact and passenger transportation vehicles and general transportation

services.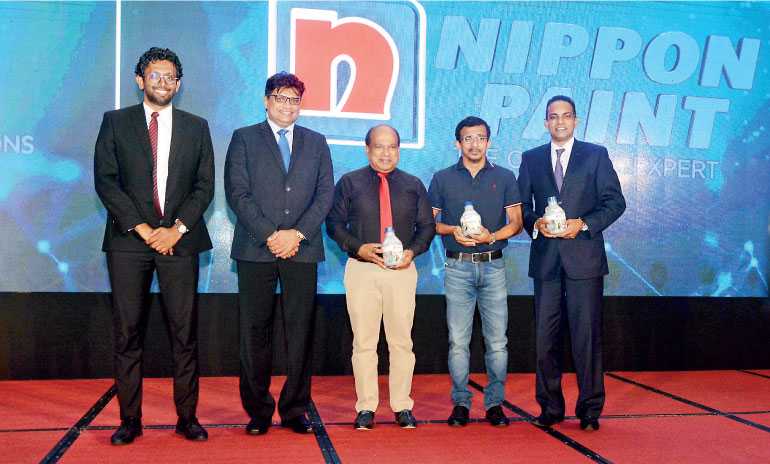 Nippon Paints Head of Sales Mihara Opatha, General Manager Nemantha Abeysinghe, Deputy Director General of Health Services Dr. Amal Harsha De Silva, Sri Lanka Institute of Nanotechnology (SLINTEC) Director Manju Gunawardana and Medical Research Institute Director Dr. Jayaruwan Bandara at the event – Pic by Upul Abayasekara
---