Economist Lloyd F. Yapa has released a new book focusing on national economic development titled 'Export Competitiveness and Alleviation of Poverty in South Asia with special reference to Sri Lanka'.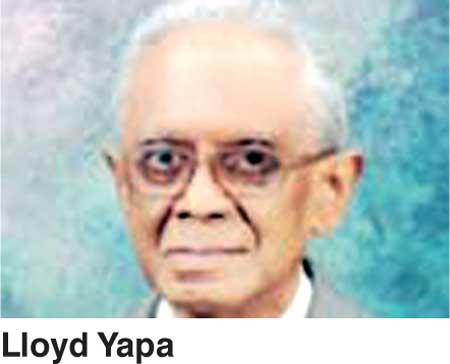 In his foreword Emeritus Professor of Economics A.D.V. de S. Indraratna says: "This book by Lloyd Yapa titled Export Competiveness and Poverty Alleviation in South Asia with special reference to Sri Lanka could not have been published at a better time than this when a new Government is in power in this country with a policy commitment of sustained high growth with inclusiveness. In the contemporary economic scene of Asia including Sri Lanka, increasing export incomes is a sine qua non for sustained high growth, and raising productivity and global competitiveness in exports is crucial for raising incomes from them."

"In sum, Lloyd Yapa's Export Competitiveness and Poverty Alleviation in South Asia with special reference to Sri Lanka is a very comprehensive study on export competitiveness and alleviation of poverty, even going beyond in to the realm of overall growth and development. The author seems to have done a considerable amount of work over the years for this study and much research has gone into it. On the whole, this publication is a storehouse of statistical data and factual information which will serve the researcher in development economics with much material for further work and the policy maker and the administrator much needed guidance for policy reform for sustained high growth with inclusiveness. It will also be a valuable addition to a library of publications in Development Economics," Prof. Indraratne has added.

Yapa has a BA (General) degree from the University of Peradeniya, an MA in Economics from the University of Colombo, a Post-Graduate Diploma in Regional Development Planning from the Settlement Study Centre, Israel, a Certificate in Advanced Management from Harvard University, USA and miscellaneous certificates on Small Industry Development from Japan as well as others on Corporate Planning and Financial Analysis, Planning and Evaluation from the National Institute of Business Management, etc in Sri Lanka.


After leaving the university in 1962 Yapa served as a teacher in a public school for two years. Thereafter he served as a Land Officer of the River Valleys Development Board, then as a Regional Manager of the Industrial Development Board, and finally as Director Policy and Planning of the Export Development Board from which position he retired in 1998 after 18 years of service at EDB.

Thereafter he served as a consultant to a few private enterprises and Non Governmental Organisations. More recently (2007-2012), he served as a member of the Council of the Sri Lanka Economic Association and then as one of its Vice Presidents.

In 1999 he authored the book 'Small Industries, Impact of Liberalisation, Constraints for Development' and co-authored the publication on 'Enterprise Level Planning' in 1991, both published by the Small and Medium Enterprise Developers (SMED). He has also contributed numerous articles, both in English and Sinhalese, to most national newspapers. At the SLEA he co-authored the publication titled 'Impact of Corruption on Poverty and Economic Growth', 2007 with three others.

The book is available at the Godage Book Emporium, No. 661, 665, 675, P de S Kularatna Mawatha, Colombo 10, Sri Lanka. Telephone numbers are 94 011 2686925 and 2685369. The book is priced at Rs. 975 or $ 15.