The Sri Lanka Development Update makes a strong case for managing risks in a holistic and integrated manner
Sri Lanka is committed to making the transition from a public investment, non-tradable sector-led to a more private investment, tradable sector-led growth model
Civil society representatives encourage the government to boost accountability and transparency, while prioritising those negatively affected by reforms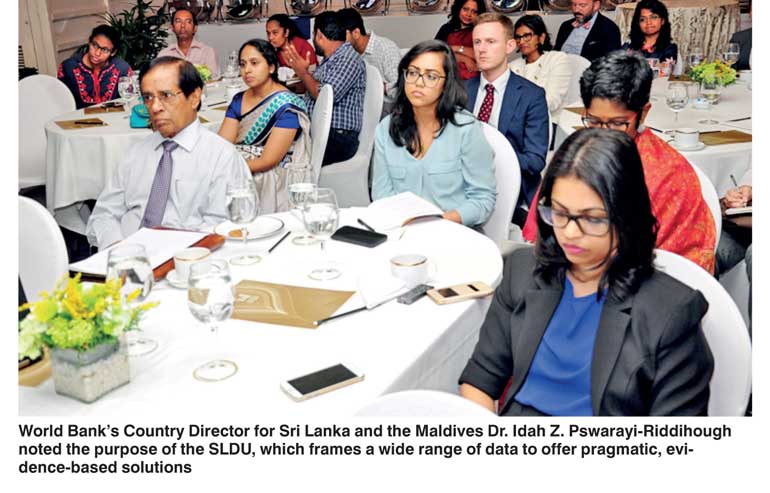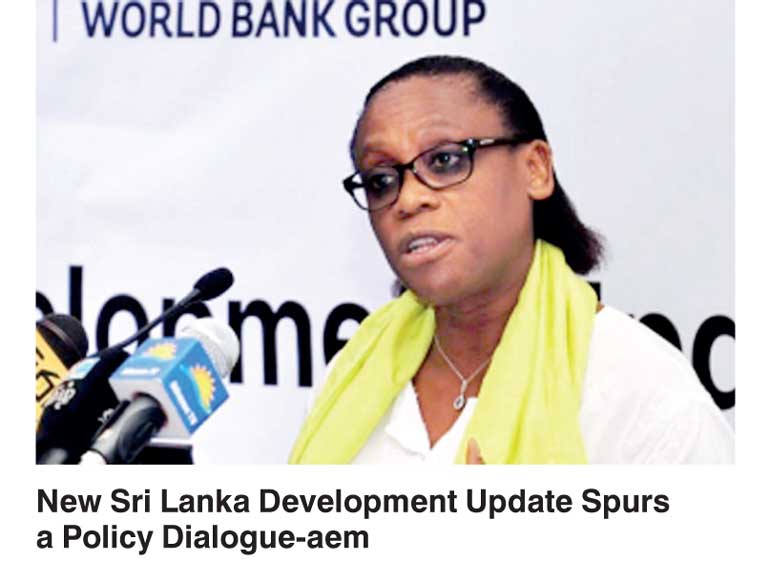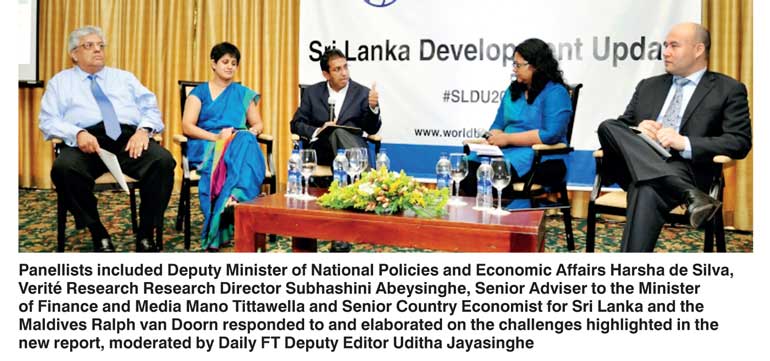 Launched last week, the most recent edition of the Sri Lanka Development Update (SLDU), looks at how this island nation can leverage new opportunities and deploy integrated risk management strategies to support sustained growth.

Speaking at the event, Dr. Idah Z. Pswarayi-Riddihough, World Bank's Country Director for Sri Lanka and the Maldives, noted the purpose of the SLDU, which frames a wide range of data to offer pragmatic, evidence-based solutions.

"The SLDU also makes a strong case for managing risks in a holistic and integrated manner given the many challenges that the government is facing," she said, noting that while reforms would have largely positive impacts, the government could expect a few negative externalities on some households and firms, at least in the short-run. "The reaction should not be to stop reforming; but rather to ensure that these issues are mitigated as best as possible, including the provision of support for the vulnerable to shore them up during the critical period," she told the gathering.

Responses to the report from the Government and civil society were welcomed at the launch, where a panel comprising Harsha de Silva, Deputy Minister of National Policies and Economic Affairs, Subhashini Abeysinghe, Research Director at Verité Research, Mano Tittawella, Senior Adviser to the Minister of Finance and Media and Ralph van Doorn, the Senior Country Economist for Sri Lanka and the Maldives responded to and elaborated on the challenges highlighted in the new report.

Moderated by Daily FT Deputy Editor Uditha Jayasinghe, the conversation covered a broad range of issues vital to Sri Lanka's continued growth and prosperity.

Sri Lanka has successes

worth celebrating

The SLDU notes that in 2017, growth is expected to reach 4.6% and increase marginally over 5.0%, driven by private consumption and investment. Van Doorn, one of the authors of the report, said that the external sector was poised to benefit from the reinstatement of GSP+ preferential access to the European Union but that this window would not remain open indefinitely and that the Government would have to move quickly to take advantage of it.

He also noted that expenditure control and the impact of VAT had actually helped create a primary fiscal surplus, contributing to a projected narrowing of the fiscal deficit to 5.1% of GDP. Further revenue-increasing policy measures along with improved tax administration would help increase revenues and reduce the deficit to 3.5 of GDP by 2020. Sustained primary surpluses would put debt on a decisive downward path, even with growth shocks.

Van Doorn also noted that gross official reserves reached a 32-month high from relatively low levels and that the Port City project had drawn a significant amount of FDI.

Addressing the gathering, the Deputy Minister highlighted the advances presented in the latest edition of the Household Income and Expenditure Survey, which revealed that households mean real income at the household level had increased by 18% in the last three years, as opposed to 5% in the three years before.

The reform agenda is progressing, albeit at a slower rate

As outlined in Vision 2025, the current Government is pursuing an ambitious and comprehensive reform agenda. With the Budget looming, Tittawella said that State-Owned Enterprises (SOEs) would receive increased attention and expressed his hope that the public enterprise reform effort launched by the Government would gain more teeth in coming years. Various reforms were also underway to boost the SME sector, with practical measures designed to break a culture of Government handouts and instead boost the resilience of small and medium-sized businesses.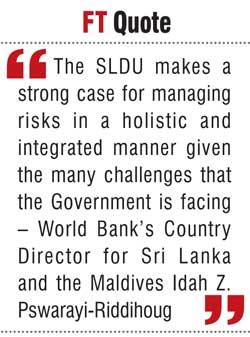 The Deputy Minister acknowledged the urgency of managing fiscal risks and reforming trade laws not just to facilitate imports but also exports, adding that trade reforms were critical to ensuring Sri Lanka increased its share of global trade. Pointing out that exports had dropped from 33% of GDP to 13% of GDP, de Silva said: "For a small country, that is the wrong direction. To make a non-tradable, debt-fuelled, infrastructure-led growth model, into an investment-led, tradable, export-led model is not that easy, but we understand that trade reforms are at the very bottom of this."

Proposals around debt and liability management were being discussed at the highest levels, Deputy Minister de Silva assured the audience, explaining that the Government appreciated that this was an acute problem. In fact a liability management mechanism was scheduled to be implemented shortly. As part of the effort, the State was encouraging greater FDIs, reducing borrowing and setting up a national Public-Private Partnership agency.

The Deputy Minister also made a point of noting that disaster risk management needed to be mainstreamed. With incidences of extreme weather seeming to increase in frequency and severity, this was more critical than ever and if not addressed could undermine Sri Lanka's economic growth to a worrying extent.

Boost accountability and transparency, while prioritising those negatively affected by reforms

When it was her turn to speak, Abeysinghe noted that the conversation would have to go beyond a discussion on how to increase revenue to how well that revenue was subsequently managed.

Recounting the details of one of Verité Research's most recent efforts, Abeysinghe noted that in their analysis of budget proposals of over Rs. 1 billion they found a lack of transparency and accountability. There was no information made available on the status of 51% of projects, despite an obligation by ministries to do so. In some cases, even RTI requests failed to elicit this information.

She also addressed issued around trade, emphasising there was a need to talk about domestic industry promotion as opposed to domestic industry protection. "It's time for us to replace that protection with promotion. We don't want our domestic industry to be like our current Sri Lankan cricket team. You can't blame the players, if you don't have the systems, procedures and processes in place to produce a winning team. So you can't blame domestic industry for failing in international markets," she said, adding that Verité's research had found that domestic industries faced significant barriers in their own country which undermined their ability to succeed internationally.

While trade liberalisation could clearly offer many advantages, Abeysinghe cautioned that their success would ultimately be determined by how well the country looked after those who were adversely impacted. To neglect them would be to risk creating a group of vulnerable, dissatisfied citizens who felt they had been left out of progress. If managed carefully, however, the country could see many benefits from coming reforms.