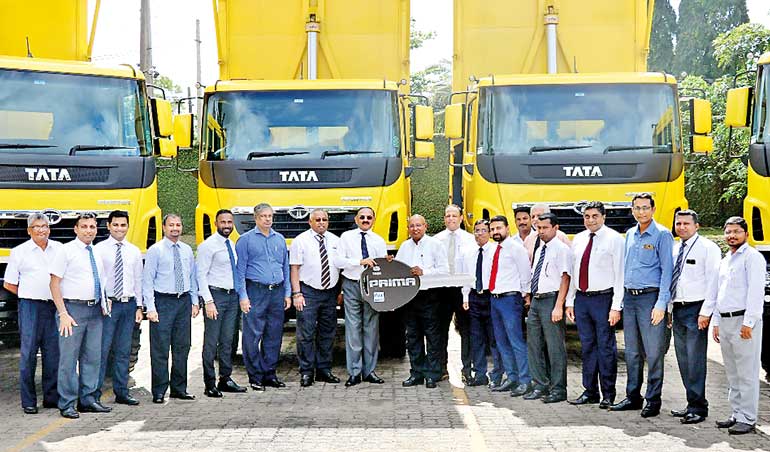 Four Tata PRIMA 2528.K Scoop Type Tippers were handed over to NEM Construction Ltd. The Tata PRIMA Scoop Tippers were handed over by Diesel & Motor Engineering PLC Chairman and Managing Director Ranjith Pandithage to NEM Construction Ltd. Chairman/Managing Director Raja Nanayakkara.

DIMO Group CEO Gahanath Pandithage, DIMO Director Vijitha Bandara, Tata Commercial Vehicles Sales General Manager Nalinda Kurukulasooriya, Tata Commercial Vehicle Services Mahesh Karunaratne, and Tata Motors Ltd. Country Manager Madhu Singh were also present at this ceremony.

The Construck PRIMA range of tippers from Tata Motors is especially suited to provide momentum in the construction and mining sectors. It is imperative for the new infrastructure developments to employ latest reliable technology and superior equipment to meet the stringent deadlines.

Thus, in order to meet the stiff requirements of this sector, the PRIMA range of tippers employ world class aggregates like Cummins Engine with power ranging from 280HP to 380HP, transmissions from ZF, heavy duty Hub Reduction Axles, Bogie Suspension, special 12x24 mining tyres and smart Italian designed PRIMA cabin with host of features like HVAC, 9 way adjustable pneumatically suspended seats, driver information system, data loggers for multiple drivers and ample storage space.

Diesel & Motor Engineering PLC Chairman and Managing Director Ranjith Pandithage said, "Coming from Tata Motors, the leaders in truck manufacturing in India, PRIMA construction tippers are best equipped to change the tipper landscape in Sri Lanka."

The four vehicles delivered to NEM Construction are special tippers with a 16 cubic metre rock body specifically designed for heavy boulder application. The PRIMA tipper range is also available in 18 cubic metre box body for soil and aggregate movement in 6x4 configuration and 20 cubic metre box body in 8x4 configuration for higher volume and loads.