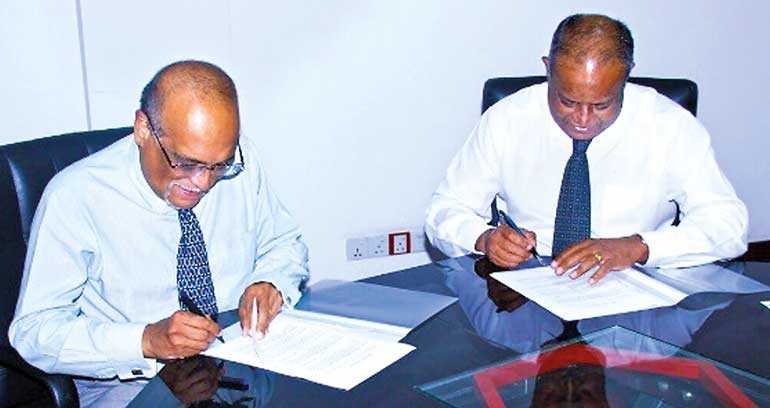 NCE President Ramal Jasinghe (right) SLINTEC Chief of Research and Innovation, signing the MOU

NCE President Ramal Jasinghe(right) and SLINTEC Chief Executive Officer Harin de Silva Wijeyeratne exchanging the MoU
---
The National Chamber of Exporters of Sri Lanka (NCE) the only private sector Chamber which exclusively serves Sri Lankan exporters has entered in to a Collaborative MOU with the Sri Lankan Institute of Nanotechnology (SLINTEC).The NCE is increasingly conscious of the fact that it is imperative for Sri Lankan exporters to enhance their Research and Development (R&D) activities, and innovate their Products and Services, to face the challenges in the international market place, by differentiating their Products and Services with 'Value Addition'. Currently most Sri Lankan products are exported in primary form or with minimal 'Value Addition'.
In the above context, it has been discerned that SLINTEC has the expertise and capacity to assist Sri Lankan exporters to use Nano and advanced technologies to innovate their products and services with enhanced 'Value Addition' to compete in the international market place.

The objective of the MOU is to utilise the Scientific and Technological inputs of SLINTEC which is an advanced Technology Research Institution with the capacity to provide state of the art nano and advanced technologies, for the development of member exporters of the Chamber. It is understood that SLINTEC is focusing on Nano and advanced technologies for product development in the areas of advanced materials, agriculture, textile and apparel, natural medicine and healthcare, which have much potential for development, and expansion of exports.

The NCE and SLINTEC will form an alliance to provide local industries with greater access to Scientific and Engineering Technology expertise to enable local enterprises to develop products with greater value and differentiation.

The principles of cooperation between the NCE and SLINTEC under the MOU are as follows:

Promote and develop local industry and exports by providing them easy access to Scientific, Engineering and Technological expertise.

Encourage local industry and the business community of Sri Lanka with regard to the benefits derived from R&D.

Plan, organise, and conduct Seminars, Conferences, Workshops and Symposiums to facilitate, and exchange of knowledge, and stimulate ideas with regard to Innovation, and R&D, within the business community of Sri Lanka.

Conduct Science Clinics, which would encourage local industries to differentiate their Products and Exports through Innovation and R&D.

Within the above Principles of cooperation under the MOU, SLINTEC will:

Identify Export sectors that require development with their research, keeping in mind the need for modern technology, current trends in the global market, exporter requirements, and buyer requirements.

Facilitate a culture of innovation by conducting seminars and symposiums on the subject of Innovation, and the benefits derived from R&D.

Conduct Scientific Clinics within the premises of the NCE, to promote the benefits derived from Innovation and R&D among enterprises involved in the export of local produce.

Provide technical support on a Project by Project basis, for which the Terms and Conditions of such work will be set out in separate Agreements.

Undertake other activities relevant to the MOU as requested by the NCE with the consent of SLINTEC.

The NCE under its obligations related to the MOU will:

Introduce SLINTEC to its member exporters with a view to provide them an opportunity to develop 'Value Addition' aspects in their products.

Assist SLINTEC by arranging customer visits to member factories to advise them in regard to upgrading products, and creating 'Value Addition' through Innovation

Provide SLINTEC with information in regard to markets that affect member exporters, current processers and technologies used by member enterprises, and bottlenecks faced by them in using novel technologies.

Provide information to SLINTEC in regard to the types of export products exported by member enterprises, along with quantities of such exports, Annual R&D budgets, and Annual revenue generation.

The MOU also has provision to maintain confidentiality of information and protection of Intellectual Property of the parties of the Agreement. The Term of the Agreement is initially for a period of One Year, with provision for renewal by mutual consent.