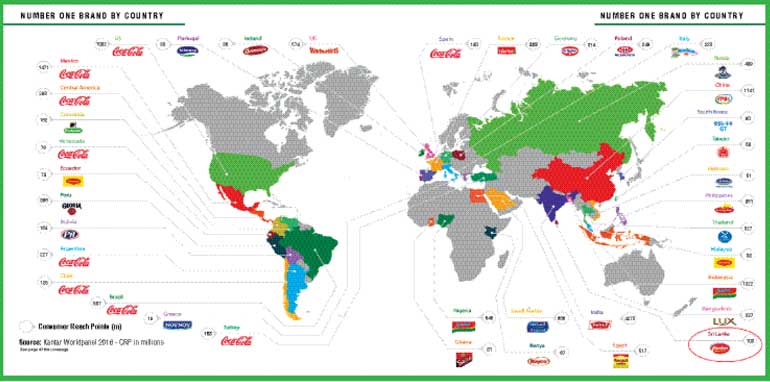 Accolade for second consecutive year by Global Brand Footprint Report 2017
– Kantar Worldpanel
Munchee has been crowned 'Sri Lanka's Number one FMCG Brand' in the Kantar Footprint Report 2017 rankings for the second year in a row.

Brand Footprint Report is a global study of winning brands in the FMCG space conducted by Kantar Worldpanel. Every year, Kantar Worldpanel conducts an exhaustive study of FMCG brands across the globe and selects the strongest FMCG brands from each country.

Being named Sri Lanka's No. 1 FMCG brand is a testimonial to Munchee's market leading position as the powerful local and home-grown brand that fulfils the taste, quality and innovation expectations of loyal consumers. The flagship brand of CBL (Ceylon Biscuits Ltd.), Munchee, is consistently rated the leader in the FMCG market in Sri Lanka.

Rankings of Kantar Brand Foot Print 2017, reveals the strength of brands in 43 countries around the world, across the Food, Beverage, Health & Beauty and Home Care categories. The report is the largest of its type, covering 15,300 brands, 200 categories, 43 countries and five continents, representing 73% of the global population.

The Brand Footprint Report further states that household consumption drives the majority of sales in the FMCG segment due in large part to long-term trends such as a growing urban middle class with rising disposable incomes and changing consumer preferences for traditionally Western products. Reflecting this trend, Munchee remains a household name in Sri Lanka, supported strongly by a strong distribution network, high quality and innovative products suited to the local palate.

A spokesperson for the company commented on this impressive accolade: "We take pride in being adjudged the leading FMCG brand in Sri Lanka by Kantar Worldpanel, in its latest Brand Footprint Report, for the second consecutive year. This accolade reflects the brand's leadership status and our commitment to sustain this leadership as a quality biscuit manufacturer and exporter. We are particularly pleased to empower consumers with a quality local product they can be proud of. Munchee is a home-grown national brand that places customers at the heart of its operations, which has helped us dominate the biscuit industry. Local brands are showing resurgence globally and we are proud to see that Munchee is spearheading the march of local brands in the country."

Ceylon Biscuits Ltd. (CBL) is one of the fastest growing and largest conglomerates in Sri Lanka that manufactures and markets many leading brands in biscuits, chocolates, cakes, cereal, organic fruit, soy and coconut based products, and many other categories globally.

Recognised as a technology and innovation-led producer, CBL caters to a large overseas market and has a global presence across all continents. Today, CBL is led by a vision to become leader in confectionary in South Asia with global presence and recognition. Under visionary leadership, the company has aggressively expanded its operation, invested heavily in new plants, factories and technologies, and established a strong sales and distribution network.

The company exports its products to over 55 countries. Currently, CBL is the largest exporter of biscuits in the country and boasts of process quality management systems for which it has received ISO 9001 and ISO 14000 environmental quality standard certifications.