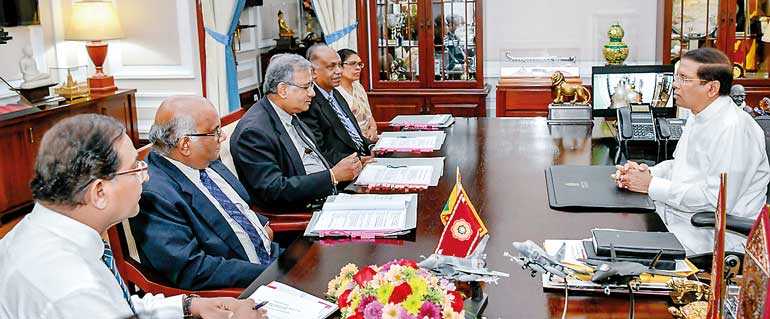 New Gazette by President's Office confers additional powers
Commission can call for bank details of those under inquiry and immediate family members
Inland Revenue Department too will be required to furnish such details
Additional powers granted at request of Commissioners
Tenure of Commission extended to 15 February 2019
President Maithripala Sirisena has conferred additional powers on the SriLankan Airlines/Mihin Air Commission, to enable it to obtain the bank account details of persons under investigation by the Commission, as well as the bank details of their spouses and offspring.

The newly conferred powers on the Commission also enable it to obtain from the Commissioner General of Inland Revenue all information available with his office relating to the affairs of persons whose conduct is being inquired into by the Commission, as well their spouses and offspring.

The additional powers were conferred by the President in a Gazette notification issued on Monday, under Section 8(1) (a) of the Commissions of Inquiry Act (Chapter 393), as amended by Act No. 16 of 2008. It was issued by the Secretary to the President Udaya R. Seneviratne.

The new powers have been granted at the request of the Commissioners for them to "effectively accomplish the task entrusted to them in conducting inquiries and investigations." Sirisena also extended the term of office of the Presidential Commission to 15 February 2019, from the previous timeline of 31 December 2018, following a meeting with the members.

The Commission will now have the power to require the manager of any bank in Sri Lanka to produce any book or document of the bank, containing entries relating to the accounts of any person whose conduct is being inquired into by the Commission, or of the spouse or a son or daughter of such person. The same will apply with regards to the Commissioner General of Inland Revenue, who will be required to furnish any documents in his possession with regards to the inquiry.

The Presidential Commission of Inquiry to investigate and inquire into alleged irregularities committed in respect of SriLankan Airlines Ltd., Sri Lankan Catering Ltd., and Mihin Lanka Ltd., was established on 31 January 2018 by President Sirisena. The Commission was tasked with inquiring into allegations of large-scale fraud and malpractices in the relevant institutions, during the period of 1 January 2006 to 31 January this year.

The Commission's members are Retired Supreme Court Judge Anil Gooneratne, Court of Appeal Judge Rohan Amarasekara, Retired High Court Judge Piyasena Ranasinghe, Retired Deputy Auditor General M.D. Anthony Harold, and Sri Lanka Accounting and Auditing Standards Monitoring Board Director General Wasantha Jayaseeli Kapugama Geeganage.