McLarens Lubricants Ltd, the local agent for Mobil Lubricants in Sri Lanka, underscored the benefits the Food and Beverage Industry in Sri Lanka could achieve and pass on to consumers with the use of Food Grade Oils that are uniquely designed to help enhance equipment efficiency and maximise productivity while safeguarding products against food contamination.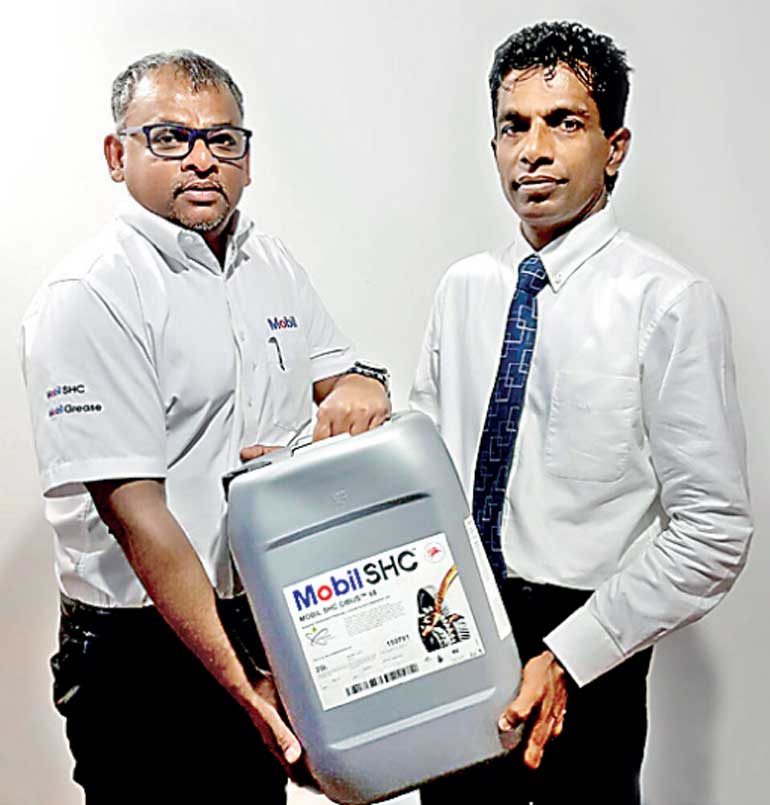 McLarens Lubricants Ltd Director Lalith de Silva with Ackzone Lanka Chairman Upul B. Senerath currently a customer of Mobil food grade oils in the bottled drinking water manufacturing sector
The use of Food Grade Oils provides a viable solution to this particular problem by extensively lowering the risk of food contamination while offering a longer lifespan for machinery as well as performance improvement.

Mobil Lubricants, marketed by McLarens Lubricants, offers a variety of Food Grade Oils including Mobil Synthesized Hydro-Carbon (SHC) Cibus oils and Mobilgrease Food Machinery (FM) series greases (next generation SHC oils) that minimise the risk of food contamination and equipment breakdown.

Mobil Lubricants are NSF registered as H1 classified lubricants (Non-food Compounds registration offered by NSF International), lubricants rated for incidental food contact. At present, Food and Beverage processing entities in Sri Lanka utilise Mobil Industrial Lubricants for meat and dairy processing, baking operations, mineral water bottling operations, tea processing and food packaging.

"While a number of Sri Lankan Food and Beverage companies already use Food Grade Oils in the manufacturing process, most companies are yet to make the switch from mineral oils that only afford a shorter lifespan. While companies might be reluctant to purchase Food Grade Oil, the benefits of utilising Food Grade Oils are many and surpass the cost involved. Food Grade Oils offer food safety from biological, chemical and physical hazards in production processes, consequently meeting the HACCP standards and allowing local manufacturers to pass compliance audits without complications," said McLarens Lubricants Ltd. Director Lalith De Silva.

Mobil Food Grade Oils meet stringent FDA requirements and are suitable for Kosher and Halal food preparation. Additionally, these Food Grade Oils are manufactured at ISO 22000 certified facilities that also meet the requirements of ISO 21469, to ensure that the highest levels of product integrity are maintained. Along with delivering exceptional performance and long-lasting equipment protection, the Mobil SHC Cibus and Mobilgrease FM ranges generate significant cost savings.

"Sri Lanka is fast adopting global practices and in a market that lacks stringent food and hygiene standards it is important that food and beverage companies take an initiative to hygiene-proof their manufacturing process and embrace the increase in automation," added De Silva.