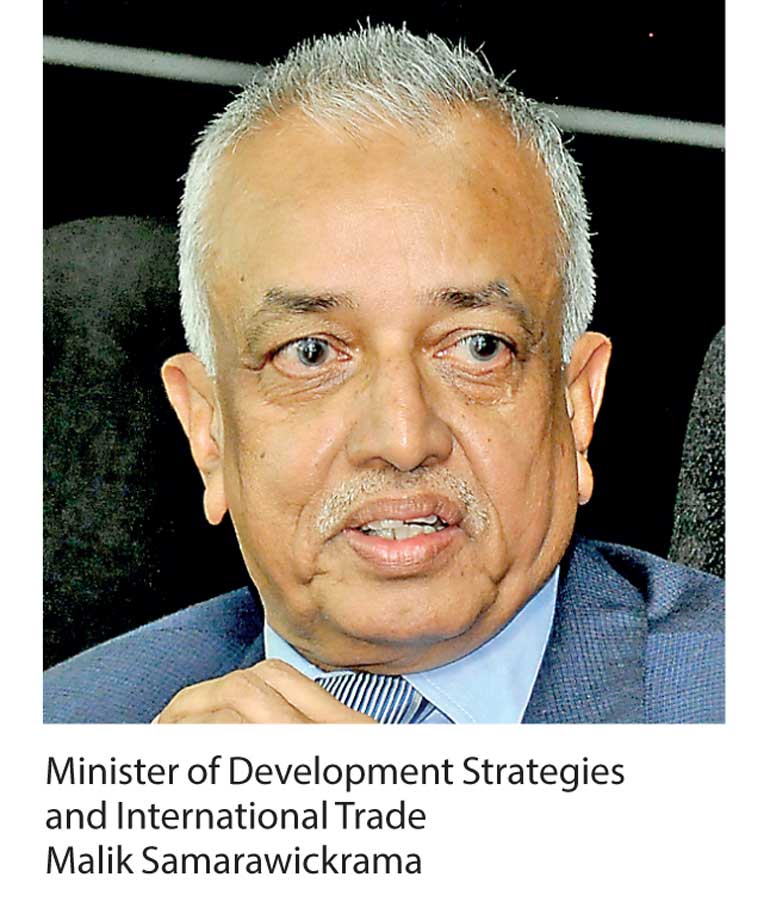 By Ashwin Hemmathagama

– Our Lobby Correspondent

Minister of Development Strategies and International Trade Malik Samarawickrama on Monday in Parliament identified the Budget 2018 as the first step the Unity Government will follow to establish a solid foundation to nurture micro, small and the medium size businesses in Sri Lanka.

According to the Minister Sri Lanka should think out of the box and try producing to meet global markets.

Joining the Committee Stage debate of Budget 2018, Minister Samarawickrama observed that the time had come to launch the much-needed outward focused economy in Sri Lanka. "The Government's focus has shifted from a growth model heavily dependent on public infrastructure spending to growth driven more by private enterprises, exports and foreign direct investments. The number of jobs created by Government infrastructure projects is not sufficient because firstly the debt burden is very high. We need the private sector, including small, micro and medium enterprises, to drive this economy. According to official figures, 99% of the private establishments in Sri Lanka are micro, small, and medium enterprises. Our economy is full of enterprising people. We must ensure that we create the best possible environment for businesses. We have enterprising Sri Lankans," he said.

Remembering the excitement seen with the introduction of the open economy, Minister said: "Sri Lanka from the time of the kings has benefitted from an open economy. But this has been reversed from 1970-1977 and during the previous regime. But the Government has focused on making the economy more open and making the country an attractive place for more business. When I heard the new economic reforms and opening up of the economy, I was excited and encouraged to become an entrepreneur. The same kind of spirit would be kindled in the youth having heard the directions of the proposals in the Budget for the 2018 financial year.

Requesting businesses of all sizes to innovate meeting export markets, the Minister highlighted the importance of bringing much-needed change to Sri Lanka.

"We must create the best possible environment for them to thrive. Secondly, our domestic market is too small. So we have to trade with the world, export and welcome the world to our shores. Due to this reason our ministry has taken many steps to strengthen this aspect through a series of initiatives and programs focusing on exports, Foreign Direct Investments trade agreements and bilateral economic corporations. New trade policy was approved by the Cabinet in July 2017 to stimulate growth and job creation by improving the ability of firms to export and compete for the domestic market through a modern, simple, transparent and predictable trade regime. The NTP that we launched addresses key elements: competitiveness through domestic policy reforms, market access and trade facilitation, macro-economic balance policy and institutional coherence and helping the adjustment of enterprises and workers," he added.