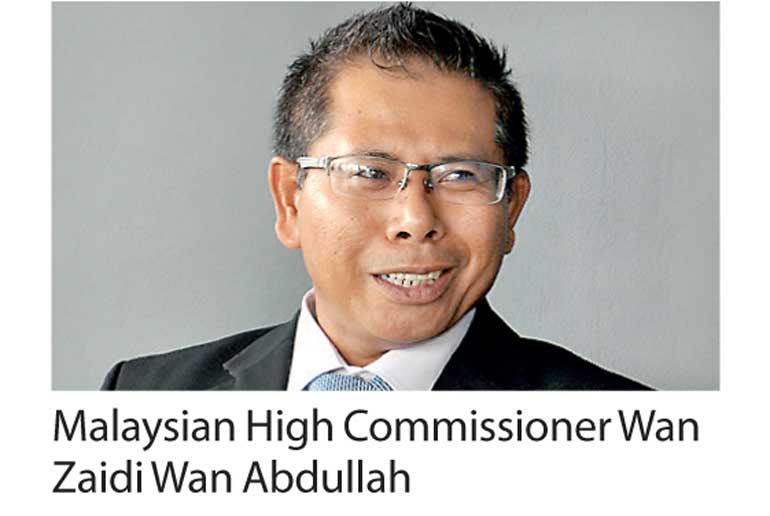 Signing of FTA between countries likely to take two more years
Construction, power generation and tourism key interest areas for Malaysian businesses
Sri Lankan exports to Malaysia on the decline, urges exporters to diversify
By Chathuri Dissanayake

With the Free Trade Agreement (FTA) tipped to give access to a larger South East Asian market, the Malaysian High Commissioner to Sri Lanka encouraged Sri Lankan industries to increase exports to the country.

Bilateral trade, which is currently leaning in Malaysia's favour, can be better utilised to improve declining Lankan exports to Malaysia, High Commissioner Wan Zaidi Wan Abdullah told journalists on Wednesday.

"The FTA will enable Sri Lanka to use Malaysia as a gateway to the ASEAN market, which is about 60 million people, and it will give Sri Lanka access to India and other South Asian markets," the High Commissioner said.

However, negotiations may take longer than anticipated, he revealed.

"The earliest we can negotiate is two years. That was one year ago, so we expect it to be signed within two to three years. It is up to the Sri Lankan Government also if they want to fast-track. It has to be mutually agreed to fast-track negotiation. We are hoping that progress and negotiating will commence as soon as possible," he said.

A formal round of negotiation has started, but the High Commissioner is of the opinion that negotiations should be more active. The FTA will bring broader expansion on concessions received by Malaysian exporters, he said, adding that with the agreement he expects export concessions in the electronics industry to be significant.

Trade relations between the two countries are expected to be boosted through the visit of Malaysian Prime Minister Dato' Sri Mohd Najib Bin Tun Haji Abdul Razak in December, the High Commissioner said.

During the visit, representatives from the Malaysian business community will also visit the country to participate in roundtable meetings to explore investment possibilities in the country.

Malaysian businesses are eying opportunities in infrastructure and other construction projects such as housing and tourism, Abdullah told journalists.

"Those who are in power generation, infrastructure and housing are able to carry out projects in Sri Lanka easily. Even Malaysian plantation companies wish to come but Sri Lanka doesn't have much to offer in that industry," he said.

However, investors in power generation are still wary of entering the Sri Lankan market due to the long periods involved in earning returns from projects.

"They are still maintaining a wait-and-see policy. Most projects in Sri Lanka are either Build-operate-transfer projects or public-private partnerships which take about 10-20 years to earn proper returns. That is too long for them, so they are not very sure of the market," he said.

Sri Lankan exports to Malaysia, of which the garment industry constitutes a large percentage, are however on the decline, the High Commissioner stressed, urging local businesses to diversify into new industries.

"We know that the garment industry in Sri Lanka is on an overall decline so not much can be done. But there are industries that Sri Lankan exporters can focus on to boost exports to Malaysian like fisheries and gemstones. These are areas that Sri Lanka can have advantages in," Abdullah said.

Further, he highlighted that the Malaysian market was yet to be explored by the Sri Lankan tourism industry.

"Outbound tourism is growing in Malaysia and there is a tremendous opportunity for Sri Lanka to promote tourism," he said, observing that the country had already seen an increase in the number of visitors to Sri Lanka.