The Malaysian Managing Director of Holographic Asia, Foong wan Hong is on an extensive mission to make Sri Lanka fake and forgery free. He yearns to see this country, which he has visited over 30 times during the past 12 years, (including the war torn years as well) marching towards progress in every sphere of development.

Through his visits, he has identified a potential area which could be eradicated through a mechanism formulated by him to combat the growing threat of contraband which is prevalent in Sri Lanka. The innovative, technologically driven concepts are bound to create a significant impact, while providing the perfect solution to the problem.

"Fakes and forgeries are a crime of gigantic proportions rapidly establishing its tentacles in every part of the world. Every industry has to battle with counterfeit items; from engineering products to spare parts, pharmaceuticals, liquor, FMCG products, shoes, clothing, documents, currencies and more," he said.

Elaborating further he said that an important document can be forged, so can the brand of wine you have acquired a taste for over the years. "While these cast a financial burden on you, it directly opens an avenue for earning money illegally and in certain instances, much more than the genuine entrepreneurs. These operations could also have fatal consequences with patients consuming the fake 'life saving' drug instead of the genuine or the fake car spare part being the cause of life-threatening accidents."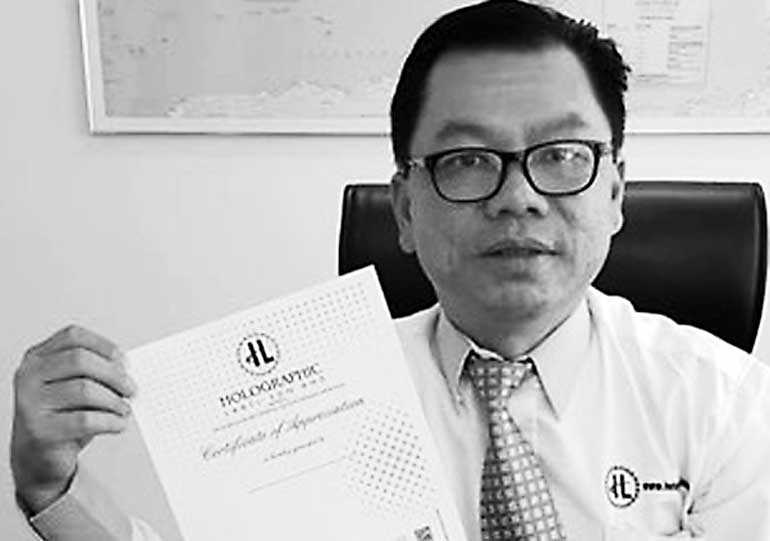 Holographic Asia Managing Director Foong wan Hong
"I firmly believe that since fakes and forgeries are damaging the authenticity of brands with the intellectual property rights of products and services receiving a deathly blow, it is time the Sri Lankan government took stock of counter-attacking this piracy," Foong affirmed.

Foong has been operating in Sri Lanka for more than twelve years with Diamond International as the Sri Lanka based agent. He has a very impressive record with a prestigious customer base consisting of a prominent government and private sector clientele such as the Departments of Elections, Motor Traffic, Examinations, Education, Immigration, Sri Lanka Foreign Bureau, HNB, Sampath Bank, NIBM, Aviation, Airport Authority and many more.

He has proved his credibility by providing fake-free solutions to many of the Sri Lanka government departments, educational institutes and top cooperates to ensure that their products and services retain their original identity without the fear of being forged. "I ensure that my techno-solutions are constantly on par with the ever-changing facets of technology," he said, adding, "I work with the existing systems in any organisation in order to minimise the cost incurred."

The innovative Foong has further developed a revenue license which contains all the necessary data or information in a QR code which can be scanned by the relevant authorities through a smart phone. This valuable sticker can be pasted on the windscreen of each car for a period of 18 months, thus enabling a bona-fide vehicle identification system.

He invites Sri Lankans to like and share his FB page – 'Fake and Forgery Free Sri Lanka' – to understand the unique services available and to obtain more information from his website www.holographicasia.