---
In order to promote the exchanges and cooperation on commercial legal services among the governments, enterprises, research institutions from China, South Asian and Southeast Asian countries, and to further play the role of commercial legal services in the promotion of trade and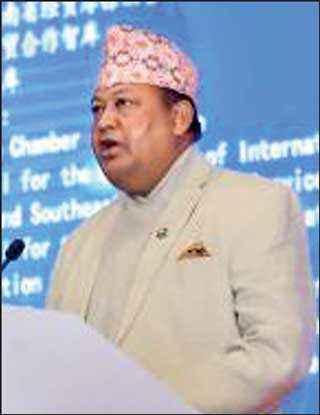 Vice President (Nepal) Chandi Raj Dhakal addressing

the gathering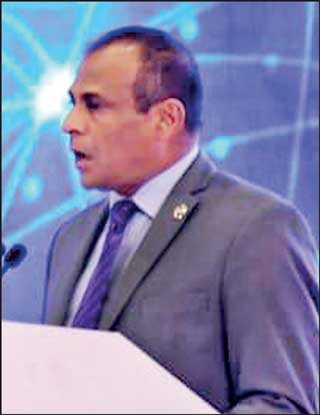 Vice President (Sri Lanka)

Dr. Rohitha Silva addressing

the gathering
investment, SAARC Chamber of Commerce and Industry and China Council for the Promotion of International Trade (CCPIT-Yunnan) jointly organised the '2019 Forum on China-South Asia, Southeast Asia Commercial Legal Cooperation', in Kunming International Convention and Exhibition Center, China.

The theme of the forum was 'Settlement of Cross-Border Commercial Disputes under the Belt and Road Initiative'. The forum attracted the people from circles of politics, commerce, law, and academics from China and South Asian and Southeast Asian countries to discuss the prevention and settlement method of commercial legal service and disputes.

China Council for the Promotion of International Trade Vice President Lu Pengqi, Yunnan Provincial People's Congress Standing Committee Deputy President and Yunnan Province Federation of Trade Unions President Wang Shufen, SAARC Chamber of Commerce (Nepal) Vice President Chandi Raj Dhaka, CCPIT Legal Affairs Department Deputy Director General Liu Chao, SAARC CCI (Sri Lanka) Vice President Dr. Rohita Silva addressed the forum.

Speaking at the inaugural session, Dhakal said, the Belt and Road Initiative has gained tremendous interest as a strategic vision for intensifying trade and investment flows and lend new dynamism to the development trajectories of countries from Asia to Europe and beyond.

Similarly in emerging markets and developing countries new policies and institutions are needed to shift towards higher value-added activities, foster entrepreneurial development and promote innovation to sustain growth in productivity. China's Belt and Road initiative is regarded as a welcome shift of the economic policy debate from macroeconomic to structural policies.

He also stated that countries along the Belt and Road have highly diverse that impede infrastructure development as well as the development of trade and investment. He said, complexity of developing sustainable infrastructure and combining infrastructure investments with improved policies for fostering trade and investment demands, a comprehensive policy approach beyond a mere focus on individual projects.

While addressing the technical session on Regional Commercial Law Service Institutions and Institutional Mechanisms under the Belt and Road Initiative, SAARC CCI (Sri Lanka Chapter) Vice President Dr. Rohita Silva highlighted the significance of the Belt and Road Initiative, and said BRI initiative will connect more than 65 countries making up over 62% of the world's population, around 35% of the world's trade and over 31% of the world's GDP. The project will also make it easier for large multinationals and start-ups alike to reach new large consumer markets. Thus, the benefits of easy access to a growing market will be accessible to all investors regardless of their geographic background. Consequently, through the initiative this immense market will be accessible for all, he added.

Furthermore, he added that BRI initiative provide new opportunities as well as legal risks. He emphasised that there are more than sixty countries along the belt and road initiative having legal system covering all sort of law system, each country has its own jurisdictions and standards, tax laws, regulatory frameworks and cultural issues. Such differences will affect all aspects of cross border investment, infrastructure development, construction, trade energy development, regional cooperation, labour, environmental protection, taxation and finance, etc.

In order to strengthen the lateral ties of the nation's trade promotion system and to play the role of Yunnan as the centre towards South Asia and Southeast Asia, CCPIT Yunnan Sub-council and CCPIT Xiamen Sub-council signed Memorandum of CCPIT Sub-Councils in Yunnan and Xiamen on Strengthening China's Cooperation with South Asia and Southeast Asia in Commercial Legal Affairs.

The forum explored research, discussion and agreement on the pilot project of arbitration institutions and mechanism construction in the China (Yunnan) Pilot Free Trade Zone. Yunnan Province become the pioneer and leader of the national free trade pilot zone and actively explore successful experiences that can be promoted. It escorted economic and trade investment activities for governments and enterprises in China and South Asia and Southeast Asia. This forum actively promoted Kunming as the most popular international arbitration centre.