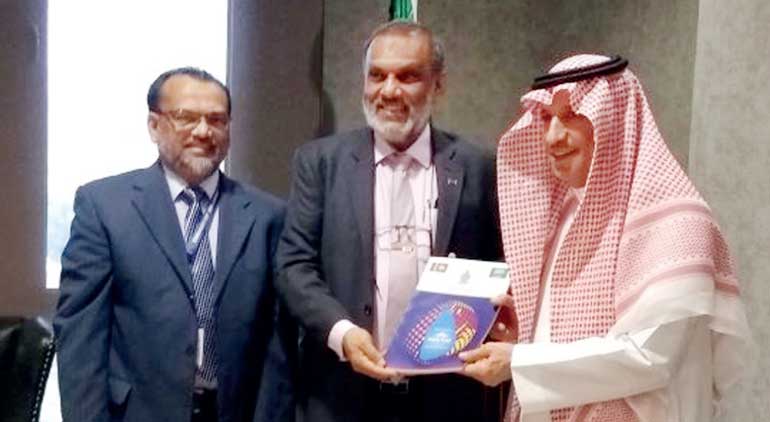 Sri Lankan Ambassador in Riyadh Azmi Thassim presents a copy of the magazine to Saudi Arabian Labour and Social Development Minister Dr. Ali Al-Ghafis at the headquarters of the Ministry in Riyadh recently.
The Sri Lanka Embassy in Riyadh has released a 110-page colourful magazine to highlight its potentials to the Arab world.

A copy of the magazine was recently presented to Saudi Arabian Labour and Social Development Minister Dr. Ali Al-Ghafis by the island's ambassador in Riyadh, Azmi Thassim, at the headquarters of the Ministry in Riyadh.

The book was informally launched at the 70th anniversary of Sri Lankan National and Independence Day, attended by Riyadh Gov. Prince Faisal Bin Bandar and held at the Tuwaiq Palace in Riyadh recently.

"The magazine was prepared by the mission to mark the 70th anniversary of the National and Independence Day of the country, to tell the Arab world about the importance of the island which has had Muslim influence since more than 2,500 years ago," Ambassador Thassim told Daily FT here.

The book, which is published in Arabic and in English, carries the images of the Custodian of the Two Holy Mosques King Salman, First Deputy Premier and Minister of Defense Crown Prince Mohammed Bin Salman, Foreign Minister Adel Al-Jubeir, Labour and Social Development Minister Dr. Ali Al-Ghafis and Governor of Riyadh Prince Faisal Bin Bandar.

It also includes messages from Sri Lanka's President Maithripala Sirisena, Premier Ranil Wickremesinghe, Foreign Minister Tilak Marapana, Justice and Foreign Employment Minister Thalatha Atukorale, Ambassador Thassim and Consul General in Jeddah A W A Salam. Also included are photographs of the Sri Lankan Ambassadors who held office since 1981, when the Mission was first established in Jeddah. The first Ambassador was M R M Thassim, who was also the father of present Ambassador Azmi Thassim.

The highlights of the magazine include tourism, wildlife, scuba diving, investment opportunities in the island, the country's cuisines, festivals, Ayurveda and indigenous medicines, the island's export products including tea, rubber, coconut, and gems, and the availability of skilled workers.

Ambassador Thassim said Sri Lanka is an ideal destination for family holiday and honeymooners. The Saudi tourists to the island has been increasing in the recent past which has already reached a mark of around 38,000. He noted that Saudis are given on arrival visas at the Colombo airport - however, he added, they can also avail themselves of e-Visa services and visas could be issued at the Sri Lanka missions in Riyadh and Jeddah as well. He pointed out that the country has a diverse range of attractions which include scenic beaches, Ayurveda medicine, sports and adventures and wildlife.

Saudi tourists will feel at home in Sri Lanka because of its friendly people, availability of halal food and the presence of Muslim worshipping places in all parts of the island, Thassim said.