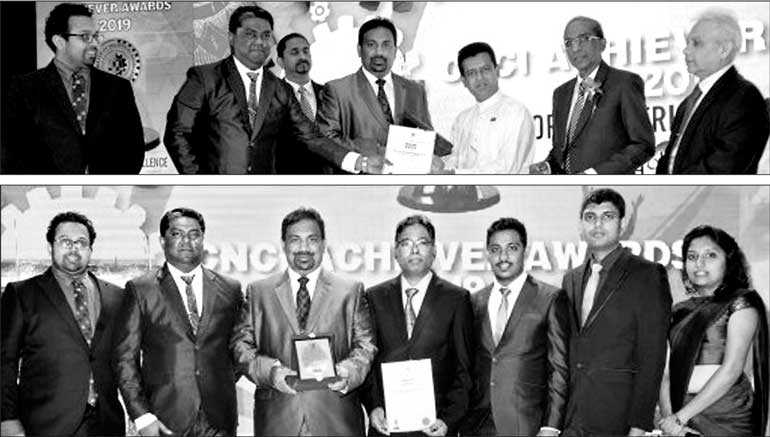 Lanka Special Steel Ltd. (Lanka SSL), proved its excellence once again by receiving a coveted Merit Award at the 'CNCI Achiever Awards 2019' for industrial excellence, organised by the Ceylon National Chamber of Industries. A subsidiary of E B Creasy Group and a pioneer in the domestic steel wire industry, Lanka SSL was the proud recipient of a Merit Award in Extra Large Category, National Level in Manufacturing Sector.

The CNCI Achievers Awards for Industrial and Service excellence has been earmarked as a benchmark of industrial excellence, which provides national and international recognition for the best achievements out of all Sri Lankan industrial/manufacturing and service sector companies as well as the Sri Lankan operations in the SAARC countries. This is the second time, the company won this kind of national level award for its outstanding performance in the areas of quality standards, productivity, employee benefits, labour relations, sales and marketing, customer relationship and social and environmental obligations.

Lanka SSL has excelled in local galvanising industry over the past fifteen years with a constant effort to be a pivotal contributor to the country's economy. Being the undisputed market leader for galvanised steel wires, Lanka SSL can boast of an annual production of 12,500 metric tons with its main products being hot dipped galvanised wire, un-galvanised nail wire, barbed wires, amongst many others, especially for the booming construction sector.

Expressing his gratitude to all the staff who contributed to this achievement Lanka SSL CEO Pravin De Silva said: "This award illustrates how we surmounted immense challenges to climb the zenith and be recognised for our achievements."

An ISO 9001: 2015 and SLS certified manufacturer, Lanka SSL places priority in delivering high quality products to customers using German-based technology. The company has built a reputation over the last 15 years in providing superior products and service, which is well reflected in its loyal and repetitive clientele. The highly qualified team ensures a customised service that best fits individual requirements.

As an innovator in wire manufacturing, Lanka SSL is keenly engaged in research and development. Recently it collaborated with University of Moratuwa in two areas of research and with these initiatives the company expects to produce more direct exports.