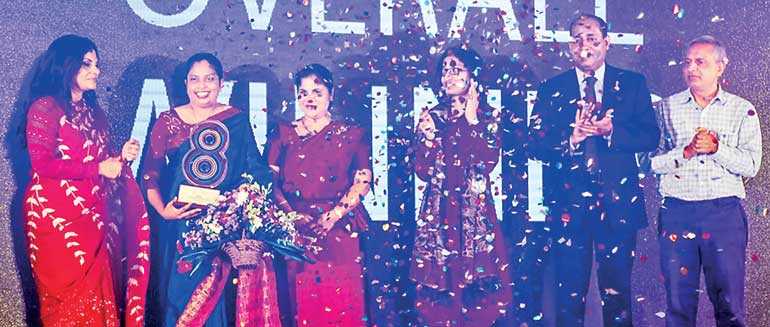 IronOne Technologies and BoardPAC Co-founder/ CEO Lakmini Wijesundara crowned 'SAARC Woman Entrepreneur' for the year 2018. Minister of Women and Child Affairs Chandrani Bandara presents Wijesundara her award together with World Bank Secretary Nikita Singla and SCWEC Chairperson Rifa Musthapha
Lakmini Wijesundara, Co-founder and CEO of IronOne Technologies and BoardPAC in Sri Lanka was chosen as the SAARC Woman Entrepreneur for the year 2018 from a pool of exemplary women entrepreneurs in the South Asian region at a glittering ceremony recently.

Aspiring to create strong role models in South Asia with the belief that every woman has the ability to lead and create a positive change, the SAARC Chamber Women Entrepreneur Council (SCWEC) held its inaugural SAARC Woman Entrepreneur Awards ceremony in Colombo this March, identifying women trailblazers from a diverse and vibrant range of fields and businesses.

"Recognising exemplary women and their achievements creates role models and with it a unique opportunity for other women to aspire to aim higher in their enterprises and professions. Through shining the spot light on the achievements of these women who have forged a successful path in their respective countries amidst hardships and families, we hope to inspire future generations of women create growth and opportunities for themselves and others in the South Asian region," SCWEC Chairperson Rifa Musthapha said.

The nominees from diverse business backgrounds including ICT, social activists and entrepreneurs, designers and hair and makeup stylists who have created empires with their talent, were then reviewed by an independent panel of judges from non-SAARC countries, following the eligibility and criteria developed by KPMG Sri Lanka, knowledge partner of the awards.

An outstanding woman entrepreneur was nominated from each of the SAARC nations for the prestigious title of 'SAARC Woman Entrepreneur of the year 2018'. Women business leaders from the SAARC region gathered in Colombo for the awards ceremony in addition to participating in knowledge workshops, to collectively find fresher avenues to economic and societal challenges in the region.

Lakmini Wijesundara, SAARC Woman Entrepreneur 2018 nominated from Sri Lanka is a pioneer in the ICT sector. As an entrepreneur, Co-founder and CEO of IronOne Technologies and BoardPAC, Lakmini established entities that operate across 20 countries and successfully partnered with international telecommunication companies such as SingTel from Singapore, Maxis from Malaysia, Robi Axiata from Bangladesh and XL Axiata from Indonesia.

Outstanding nominees included globally renowned fashion designer, Hina Mansab Khan from Pakistan who works towards uplifting women at the grass root level through her clothing company Leila Ltd., Chogyal Lhamo of Bhutan, a dedicated social entrepreneur whose business of collecting trash in her white pick-up truck is cleaning out the negative impacts of increasing consumerism and garbage, in a country renowned for its negative carbon foot print.

Researching and identifying more than 45 varieties of local plant fibre materials suitable for weaving, coiling, and knotting, including water hyacinth, pine needles and cardamom plant, in her home country Nepal, Shyam Badan Shrestha organises and conducts workshops to empower rural women in more than 20 districts in a bid to achieve their independence.

A woman of many talents, Priti Chakraborty nominated by the Bangladesh Chapter, holds numerous prestigious titles including that of the Chairperson of the Universal Medical College and Hospital (UMCH), Director of The Federation of Bangladesh Chambers of Commerce and Industry (FBCCI), Director of the Bangladesh Chamber of Industries (BCI) in addition to also serving as the Director of the International Business Forum of Bangladesh (IBFB).

Chairperson and founder of several organisations including Tac Tax Group and the Afghan Women Business Council, Zarghona Walizada from Afghanistan, founded the Afghanistan Association of Freight Forwarding Companies (AAFFCO) together with her colleagues and now heads the organisation as its Chairperson. Nominated from the Maldives, Suiza Ibrahim is a practicing hairstylist and make-up artist inspired by her father went on establish Sui's Salon a leading cosmetic services provider in Male.

A highlight of the evening was a SAARC Countries show of couture and culture which had designer clothing accompanied by musicians from all of SAARC.

The SAARC Chamber Women Entrepreneur Council (SWEC) was officially launched on 29 March 2001 by the Women's Chamber of Industry and Commerce, Sri Lanka (WCIC). SCWEC was set up with the objective of creating awareness, closer contact, regional fellowship and cooperation among women entrepreneurs in the Countries of the SAARC region.