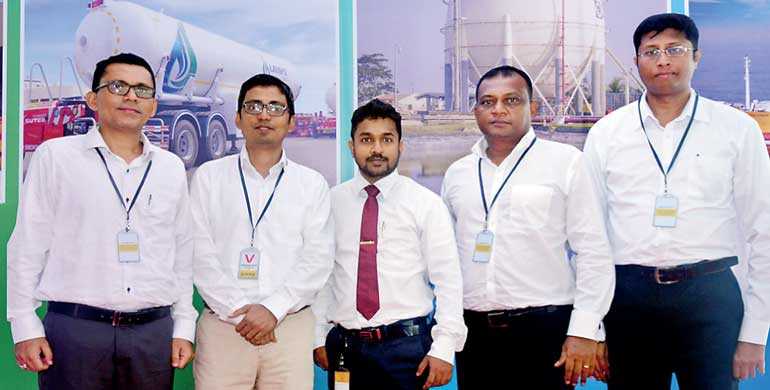 Reinstating its commitment to excellence, LAUGFS Gas (Bangladesh) Ltd., one of the largest LPG downstream distributors in Bangladesh, clinched the prestigious Gold Award under the 'Sri Lankan Industry in SAARC Countries' Category at the CNCI Achiever Awards 2018.

The award ceremony was organised by the Ceylon National Chamber of Industries in Sri Lanka and was held recently for the 17th year. The highly coveted annual awards competition is evaluated by a distinguished panel of judges and serves to recognise organisations demonstrating excellence in the manufacturing and service sector industries.

Commenting on the achievement, LAUGFS Gas Bangladesh Director/Chief Executive Officer Mohammed Saidul Islam remarked, "It is a great honour to have received the Gold Award under the Sri Lankan industry in SAARC Countries category. It reflects our team's continuous commitment towards operational and performance excellence, with a firm focus on our economic, social and environmental contribution in both Bangladesh and Sri Lanka.

"We are delighted with this recognition received, as it will serve as another important milestone in our journey towards excellence," commented LAUGFS Gas Bangladesh Chief Operating Officer Ranjith Jayawardena. "While we continue to strengthen our operations in Bangladesh, we are also committed towards strengthening our relationship with all our stakeholders as a trusted brand."

Currently, LAUGFS Gas is one of the largest LPG downstream distributors in Bangladesh, importing, storing, bottling and distributing over 60,000 metric tonnes of LPG every year, with an annual turnover exceeding $ 50 million. It operates a world-class LPG import, bottling and distribution facility in Mongla Port, with an expansive distribution network supported by Regional Distribution Centres across the country. LAUGFS Gas serves the Domestic, Industrial and Commercial LPG segments in Bangladesh with 12 kg, 33 kg, 45 kg, bulk and auto LPG solutions as a trusted brand leading and pioneering the local LPG downstream industry. Since its entry into the Bangladesh market in 2015 with the acquisition of Petredec Elpiji Ltd., the company has continued to strengthen its presence in the country with rapid expansion plans supported by strong investments.

Over the years, LAUGFS Gas Bangladesh has made significant investments in strengthening its infrastructure and distribution network in the country, with construction of the country's first state-of-the-art cylinder requalification plant already underway. It has also continued to strengthen its distribution capabilities in Bangladesh, with a number of investments. A new tanker fleet has already been added to meet the growing market demand, while expanding its Regional Distribution Center (RDC) network and increasing the dealer outlet reach.

The continuous efforts of LAUGFS Gas Bangladesh in pioneering and leading industrial excellence has been recognised with a number of awards and accolades over the years including the prestigious 'Most Promising LPG Company in South Asia' Award at the South Asian Partnership Summit and Business Excellence Awards 2017.

LAUGFS is one of the largest diversified business conglomerates and a trusted name in Sri Lanka. Founded in 1995, LAUGFS today has expanded across 20 industries in Sri Lanka and overseas, establishing a strong presence as a leader and pioneer in the power and energy, retail, industrial, services, leisure and logistics sectors. With over 4,000 employees and an annual turnover exceeding Rs. 28 billion, LAUGFS continues to expand and empower millions as a trusted Sri Lankan brand.