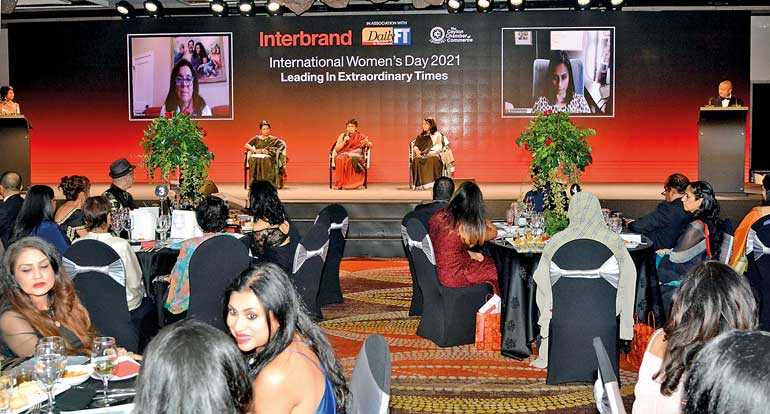 The observance of International Women's Day 2021 by Interbrand in association with the Daily FT brought together representatives from the diplomatic community, private sector, civil society and women's organisations, as well as innovators and social entrepreneurs. The forum also convened an interactive panel of global and Sri Lankan women leaders who spoke on the theme 'Leading in Extraordinary Times'.

"The objectives of the forum were to showcase the best practices of women leaders, the businesses and the brands they have built, that are defining a new paradigm around leadership this century, and to advance dialogue on the ways in which innovative solutions can remove barriers, advance real action and progress, and accelerate women leaders in Sri Lanka," said Interbrand Sri Lanka Partner Anusha David.

"We are living in extraordinary times. The scale of the current social, economic and cultural turmoil seems unprecedented. It is shattering structures, upending social order, and driving radical change around existential issues like diversity, equity, inclusion and climate change. Technology is changing every aspect of our lives. Economies have seen fortunes change in matters of weeks, and people's expectations have never been more unstable and unforeseeable. One prevailing sentiment is uniting us all, and that is anxiety.

"As uncertainty fuels our fear, it takes courageous leadership to create hope. Never like today, women leaders are increasingly becoming anchor points as they set out a worthy purpose and a powerful ambition, and pursue them with courage and conscience through the brands, businesses, and organisations they are growing and building. The defining skill in extraordinary times is the ability to solve problems and lead change, and women are mobilising their personal, social and economic power to do just that," said David.

Lead Partners NDB Bank, Supreme Flora, Singer Sri Lanka and John Keells Properties and Associate Partners Sri Lanka Insurance, Citrus Events, and You by the Wax Museum contributed to the success of the event, which was held at Host Hotel Cinnamon Grand Colombo. Luxury door gifts were provided courtesy of Spa Ceylon, Dilmah Tea, Selyn Handlooms, Hutch and LOVI Ceylon, with a departure gift of gourmet chocolates, courtesy Cinnamon Grand Colombo.

The evening's welcome address was delivered by Interbrand India Managing Director Ashish Mishra, followed by Global Chief Learning and Culture Officer and Head of Luxury at Interbrand London Rebecca Robins. The Chief Guest's address was given by Dr. Swati Piramal, Vice Chairperson, Piramal Enterprises and recipient of the Padma Shri, one of India's highest civilian honours, by the President of India for her contribution to science and technology. High Commissioner for India in Sri Lanka Gopal Baglay was also present.

The panel discussion featured several high profile speakers from overseas and Sri Lanka, including Kathy Virtue from the USA, owner of Victory Marketing 500, a leading sports marketing company and founder of 'Challenge', a lifestyle sports magazine with a 3 million reader base, which she subsequently sold at the height of its popularity; Mina Radhakrishnan from Australia, co-founder of :Different, a property-tech startup, and formerly Uber's first product manager and one of five inventors who jointly hold Uber's 2013 patent on surge pricing; Prashanthi Mahindaratne, who served as a war crimes prosecutor at the United Nations International Criminal Tribunal for the former Yugoslavia in The Hague; Anoji De Silva, a Partner of Ernst & Young Sri Lanka and a Fellow Member of CA Sri Lanka and Board Member of the Women's Chamber of Industry and Commerce; and Ishani Palliyaguru, Vice President Project Finance and Corporate Credit Control at the National Development Bank and a Fellow Member of the Chartered Institute of Management Accountants UK, an Associate Member of the Certified Management Accountants of Sri Lanka and the Institute of Bankers of Sri Lanka.

The evening's entertainment was provided by renowned saxophonist Dr. Gananath, singers Stefanie Siriwardhana and Nadine Samarasinghe, whose renditions of 'I Was Here', 'When You Believe' and 'Climb Every Mountain' set the tone and concluded the evening, and a duet by Sri Lanka's premiere pianists Ramya de Livera Perera and Soundarie David.
---
Pic by Upul Abayasekara
---