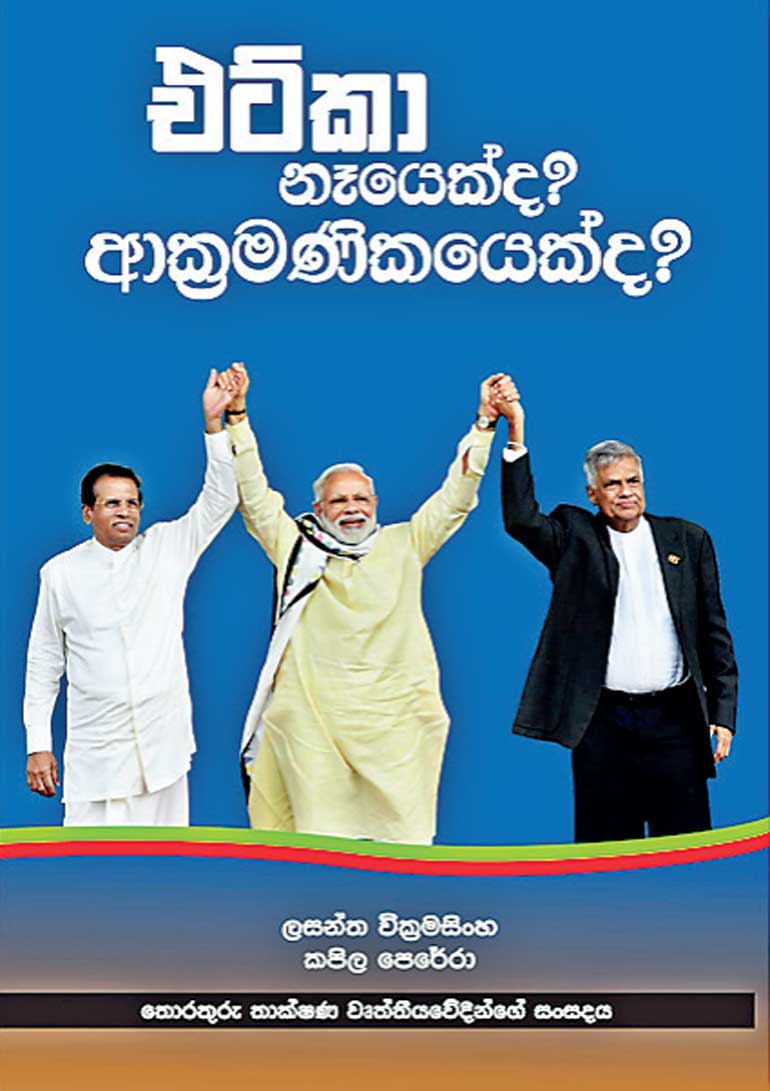 A comprehensive book written on the ETCA titled 'ETCA neeyekda? Akramanikayekda?' received a very special appreciation by intellectuals during the book launch. The book was written by Kapila Perera and Lasantha Wickramasinghe, the president and the secretary of Association of Information Technology Professionals. The event was organised by Professionals' National Front and the event was chaired by its chairman Dr. Anurudda Padeniya.

Dr. Gunadasa Amarasekara, making a speech during the occasion expressed that he was very pleased after reading the book due to two reasons. First this was the best book he has read on this subject and it is a very important and outstanding text. The second reason he put as "I was expecting for years, a young generation from this soil to be emerge to safeguard this country. In 1959, I wrote to the 'Sanskrutha' magazine that the future of this country will take over by a young generation grown up on our soil who comes from the villages. I expressed those views with expectations I had after the '56 revolution. Unfortunately my expectation did not realise for a long duration. This book offers us a clear sign that my expectations are realising now."

Making a speech former governor of the Central bank Ajith Niwad Kabral mentioned that he was amazed to see how well the subject has been explained in this book. The subject has been studied deep by the authors and every aspect of the ETCA agreement is covered by the book. This book will really help all of us to bring the subject on Free Trade Agreements forward.

The president of the Yuthukama Sanvada kawaya, Gevindu Cumaratunga said that the book explains the dreadful destiny that the nation is facing. While reading the book among the feelings like fear, shame and the irritation I got a felling of pleasure which I could not suppress. That is due to the fact that this books gives us the message that a wise young generation is ready to intervene for the betterment of our motherland.

Addressing the gathering Prof. Sumanasiri Liyanage pointed out that trade agreements do not come as relations and those agreements are proposed by the competitors. Sometime those competitors become invaders.

The book is published by the Association of Information Technology Professionals and distributed by Visidunu Prakashakayo Ltd.