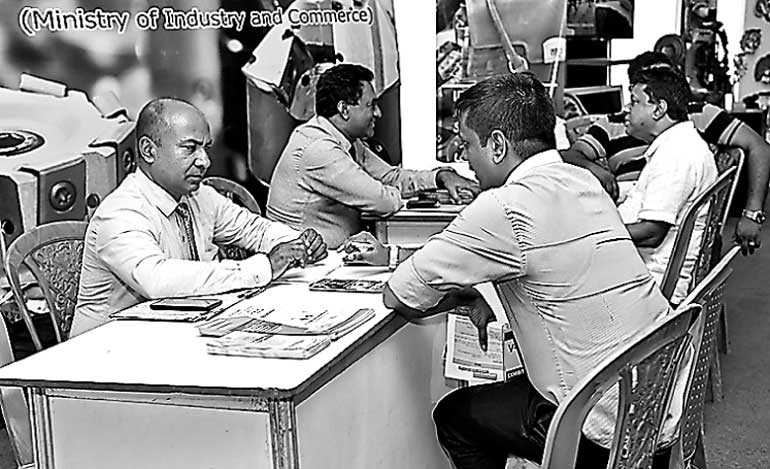 IDB Marketing and Media Director Sarath Udayasiri is seen at the desk listening to a very keen young entrepreneur and next to him is Monaragala IDB Deputy Director Harindra U. Rathnayake attending to another young visitor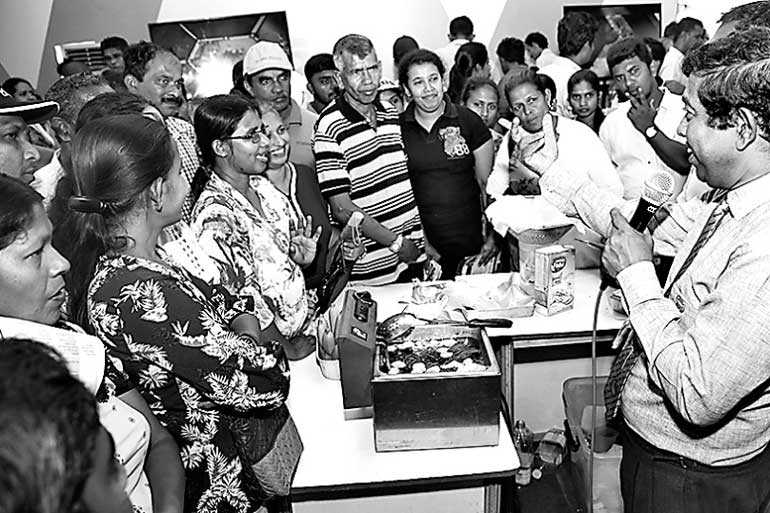 The IDB, Technical Service Division Assistant Director T.M. Kumara addressing a group of rural men and women at the workshop

IDB Enterprise Promotion Manager N. Sivarajan addressing in Tamil, the school teachers and students at the workshop
The Industrial Development Board (IDB) was one of the major participants of the Monaragala District Gam Peraliya – Enterprise Sri Lanka, National Program, the initiative of the Good Governance Government – Yahapalanaya Government led by President Maithripala Sirisena and Prime Minister Ranil Wickremesinghe.

The Monaragala district is part of the least populated – poverty ridden Uva Province, which is composed of both Badulla and Monaragala districts.

The IDB Marketing and Media Director Sarath Udayasiri commenting on the project said that the IDB was very satisfied with participation of the inquisitive rural fork, who visited exhibition ground with full of hope that spring time has come to rejuvenate their lives.

He said that most of the rural folk who visited the IDB stall were keen and eager to learn and gain new knowledge on some of the industries akin to them.

Uadayasiri further said the workshops conducted by the IDB were well attended and the participants had the rare opportunity to watch some of the demonstration on yogurt making, banana-chip making and got the visitors to try their hands in milk based products which has a big demand in the local market. Steps were also taken to provide information about the IDB to the Tamil and Muslim school teachers and students of the district through lectures and workshops conducted in Tamil. They were also told what courses specifically available in the IDB, to their benefit. The IDB Enterprise Promotion Manager N. Sivarajan conducted the workshops.

From among those visited the Enterprise Sri Lanka- Gam Peraliya around 300 entrepreneurs were provided with information necessary and guidance to put their hands in the village based industries of their choice.

Workshops were also conducted on brick making using cement and some of the brick making machines available in the local market were also on display.