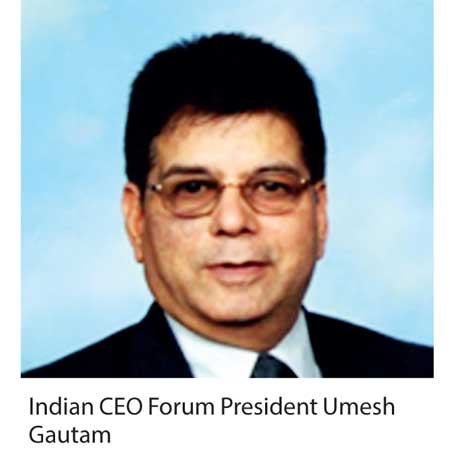 Umesh Gautam, President of the Indian CEO Forum, the preeminent representation for Indian investment in Sri Lanka, issued the following statement on the Government's 2018 Budget:
The Indian CEO Forum welcomes the proposals made by the Finance Minister for the forthcoming year through the new Budget. Without delving into the minutiae of the Budget, we would like to express our views on some of the broader policy objectives prioritised in the Budget from a foreign investment perspective. The Indian CEO Forum represents some of the earliest Foreign Direct Investments into Sri Lanka. These Indian investments have deep roots in the economic prosperity of Sri Lanka and are present reminders of the merits of foreign direct investment.

Despite the post-war potential, Sri Lanka has perpetually lagged in Foreign Direct Investment entering the country and this has contributed to its fiscal weakness. This year's Budget, dubbed the 'Blue-Green Budget: The Launch of Enterprise Sri Lanka,' builds on the fiscal consolidation progress made over the last year while placing greater focus on structural reforms, trade liberalisation, sustainability and unleashing the entrepreneurial spirit in Sri Lanka.

Since taking office, this Government has been unequivocally clear in its objective to address Sri Lanka's fiscal weaknesses and external debt situation as these issues permeate into factors such as monetary policy and exchange rate stability, important considerations for foreign investors. To their credit the Government has made progress since 2016 as revenue collection has improved whilst the deficit is expected to be 5.2% this year, down from 5.6% in 2016. We remain optimistic on the successful implementation of the new Inland Revenue Act which closes loopholes, introduces capital gains and broadens the tax base.

In the World Bank's recently published 'Ease of Doing Business' index, Sri Lanka was ranked 111th out of 190 nations indexed. This Government's Vision 2025 plan targets reforms that will push Sri Lanka to be in the top 70 positions on the index by reducing and streamlining regulatory red tape. Therefore, it is encouraging that this year's Budget has an ambitious legislative reform agenda. A strong, fair and efficient legislative framework is very important to ferment a positive business environment while digitisation and simplification of processes, and approvals will promote private sector investment. Timing and expediency will be important as all too often we see delays in implementation, an example being the Foreign Exchange Act.

The focus on sustainability and the environment by way of incentives, a carbon tax, duty changes, solar power promotion, waste disposal initiatives, and coastal conservation measures are commendable and an important first step to a larger policy discussion on how to move Sri Lanka towards a clean and environmentally friendly economy. This is one area where Sri Lanka can distinguish itself from its South Asian peers if it embraces the principles of a sustainable green economy.

In this regard, one area that this Budget underrepresented was the state of public transportation in Sri Lanka. The state of public transportation has far-reaching consequences pertaining to productivity, pollution and international branding and appeal. As Sri Lanka aims to transition to an upper middle-income country, it is incumbent on the Government to provide a transport solution that reflects this and distinguishes itself from its peers. Solutions range from prolonged multi-year infrastructure investment to more cost-effective methods like effective scheduling utilising a product mix for peak and off-peak, ensuring environmental standards and quality of service.

The Indian CEO Forum advocates for Indian businesses to offshore part of their supply chain in Sri Lanka to re-export back to the Indian market. Geographically, Sri Lanka enjoys closer proximity to the southern states of India than many of the Indian states in the north of the country which is an opportunity to compete for Indian domestic manufacturing capabilities if the right incentives are in place.

This Budget commits to eliminating up to 1,200 para-tariffs which will help Sri Lanka integrate into international production networks by reducing input costs from imports to local manufacture. This strategy will greatly boost maritime trade and help Sri Lanka achieve its goal of becoming a regional trading hub."

Gautam who heads the oldest Indian investment in Sri Lanka, a joint venture company of the Government of Sri Lanka, Lanka Ashok Leyland PLC, stresses that this is the right time that Indian investors look Sri Lanka positively and should take advantages of its economic prosperity planned in Budget and in Vision 2025 for Sri Lanka.