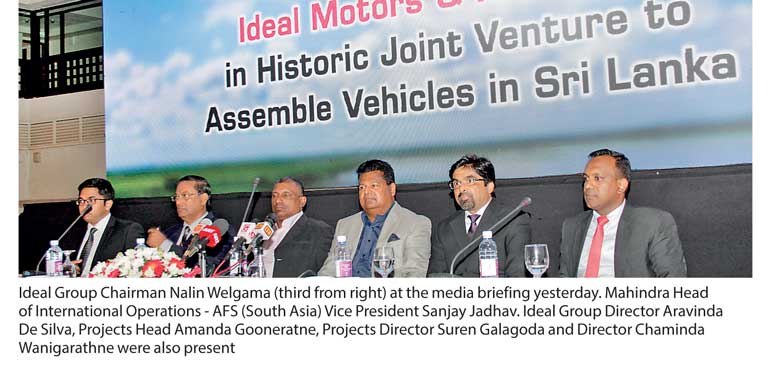 Mahindra to take 35% stake in Joint Venture
Partnership to create win-win for both companies in automotive space
First-time partnership between internationally-renowned and local automotive companies
By Shannon Jayawardena

Ideal Motors and Mahindra Group based in India entered into a Joint Venture (JV) last week opening up broader opportunities for national growth and the automotive industry in Sri Lanka, said Ideal Group Chairman Nalin Welgama.

Ideal Motors has been a trusted distributor for Mahindra, having begun its partnership in 2009. Mahindra, founded in 1945, in turn is a globally-renowned automate company with a presence in over 100 countries and is the first international company to partner a local brand. This joint venture will strengthen its presence in the country while creating long-term prospects for the country as well.

Welgama said: "In the '60s, the late renowned industrialist Upali Wijewardene had the foresight to assemble automobiles through a licensing agreement from two major international manufacturers. Today, Ideal Motors is proud to be a pioneer in setting up the first automotive assembly in direct partnership with automobile giant Mahindra. This Joint Venture will only build upon the wonderful relationship both companies have shared for nearly a decade. I am sure that the commitment and expertise of both Mahindra and Ideal Motors will lead to new horizons." The plant will be developed over the next one year in the Kalutara District under the expertise of the Mahindra team, and will incorporate global technologies. The entire project holds a total investment of roughly Rs. 2.5-3 billion.

Welgama went on to add that the new facility would not only contribute to human capital development, but would also enable the collective development of local automotive components manufacturers to international standards under the global expertise of Mahindra. This is a leap forward for the Industry, adding value to the meaning of 'Made in Sri Lanka' and opening broader opportunities for national growth. Mahindra Head of International Operations - AFS (South Asia) Vice President Sanjay Jadhav stated: "Sri Lanka is one of Mahindra's top three export markets, and today's announcement with Ideal Motors builds the foundation for newer opportunities for both of us. We have a strong vision for growth in Sri Lanka and this move is an integral part of that plan. The changes faced by the automotive industry today are triggered by the accelerated rise of new technologies, consumer needs and sustainability in policies. We see the need to anticipate new market trends, explore alternatives and build powerful synergies here in Sri Lanka."

Jadhav noted that both Mahindra and Ideal were focused on serving customers to the best of their abilities while creating an excellent network to function more efficiently and fulfill the customers' needs. Ideal Group Deputy Chairman Aravinda de Silva said: "Ideal Motors is a customer-centric automotive company with the vision to be the ultimate choice for value-based products and services, ensuring growth amidst tough competition. Today's strategic partnership represents a quantum leap for both companies as it will enable us to deliver products at affordable prices."

Ideal Motors Projects Head Amanda Gooneratne, Ideal Group Projects Director Suren Galagoda and Ideal Motors Automotive Director Chaminda Wanigarathne were also present at the news conference.