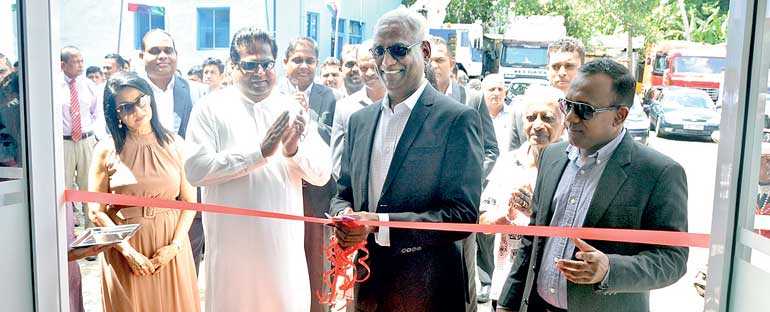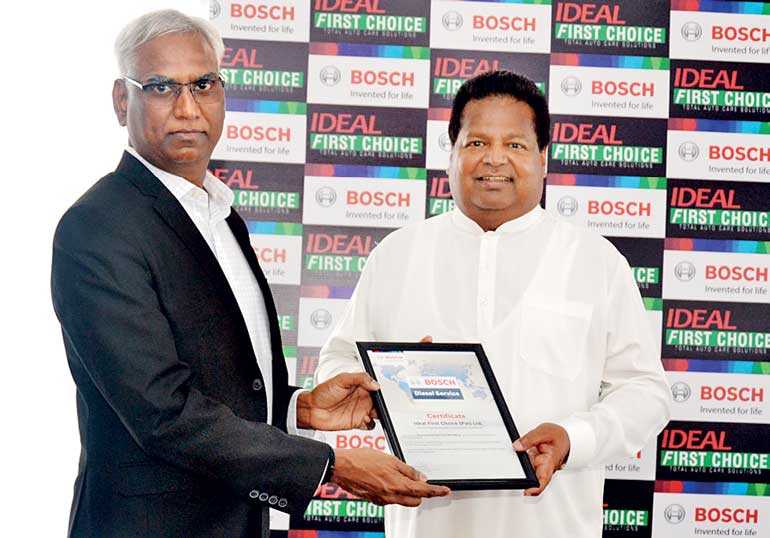 Exclusive service and repair Bosch diesel pumps while catering to Bosch spare part needs of the customers
Ideal First Choice workshop network already has island-wide presence, backed by equally strong dealer network
Customers can coordinate with any of 24 collection points and complete required repairs with additional 6-month warranty
Ideal First Choice Ltd. (IFC) recently commenced an internationally acclaimed diesel pump repair and maintenance Bosch Service centre in Colombo to service branded pumps and spare parts. The centre, located at Panchikawatta, will exclusively service and repair Bosch diesel pumps while catering to Bosch spare part needs of the customers.

IFC is Sri Lanka's leading chain of multiband car and light truck service workshops, offering a wide array of services. They focus upon enhancing your driving experience by offering world class car maintenance services for cars of all makes and models. With well-equipped car service stations and fully trained mechanics, they provide quality services with excellent packages that are customer centric, offering great savings and peace of mind. Their state of the art facilities are located in many hubs and cities across the island.

The opening ceremony of the new service centre was graced by Ideal Group Chairman Nalin J. Welgama; Ideal Motors Director (Legal and Corporate Affairs) Nimisha Welgama; Ideal Motors Director (Automotive) Chaminda Wanigaratne, and Bosch Sri Lanka Managing Director R. Swaminathan along with other special invitees.

The newly launched Bosch service centre is an extension of Ideal First Choice's foray into Bosch diesel systems and spare parts sales in March 2020. It further reinforces the Ideal First Choice workshop network that already has an island-wide presence, backed by an equally strong dealer network. Ideal First Choice has established 24 collection points island wide for Bosch diesel systems for a hassle free customer service. Now customers can coordinate with a collection point nearest to them and complete the required repairs topped up by a 6-month warranty.

Taking part in the launch ceremony, Ideal Group Chairman Nalin. J Welgama said: "We are extremely delighted to serve Bosch Diesel pump users with a state of the art service centre that caters to all their needs under one roof. Our well-trained staff are always dedicated to offer a unique after sales service backed by trusted warranties. Our customer centric approach has propelled us to greater heights in the automotive industry and we continue to enhance our service offerings backed by years of service excellence that we are proud of."

"We partnered with Ideal First Choice banking on its island wide presence and renowned after sales services to streamline Bosch service repairs. Now with an exclusive Bosch service centre and island wide collection points, we are better equipped to serve our customers who hail from any part of the country. Partnering with Ideal First Choice enabled us to provide the much needed customer convenience and on top of that, the enhanced service offering," Bosch Sri Lanka Managing Director R. Swaminathan shared.

Ideal First Choice is owned by Ideal Motors, a fully owned subsidiary of the Ideal Group. It provides world class after sales services to multi brand vehicle owners and is the authorised distributor and service provider for Bosch, the world-renowned diesel systems manufacturer.

Alongside the new service centre, Ideal First Choice is also introducing Bosch Power Tools to the local market. Bosch is a market leader that develops innovative high quality power tools and accessories using the best available technologies.