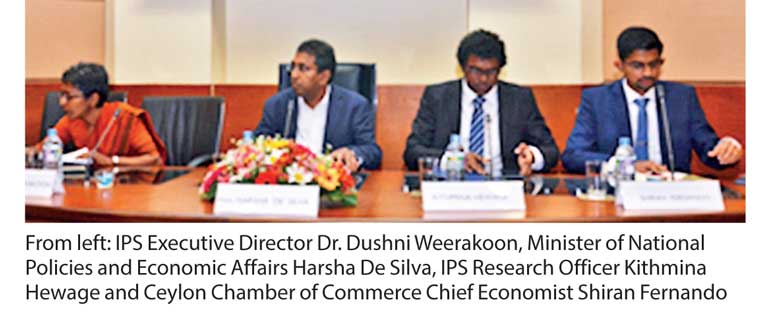 Balancing competing interests when implementing economic policy is a challenge for the Sri Lankan Government, a top Government Minister recently said.

Commenting on the Government's economic reform plans in view of the Local Government poll results, Minister of National Policies and Economic Affairs Harsha De Silva said the reforms would need to continue but the Government may need to go for the "third best solution".

Speaking at the New Thinkers' Symposium, organised by the Institute of Policy Studies of Sri Lanka (IPS) on Tuesday (27), he said "operation successful, patient dead," referring to the setback in the election, despite current improvement in macroeconomic measurements, and trade and investment flows.

Meanwhile, responding to a question from IPS Research Officer Kithmina Hewage, who was moderating the session, Chief Economist of the Ceylon Chamber of Commerce Shiran Fernando said maintaining macroeconomic stability was the top policy priority for Sri Lanka in the current context.

"Otherwise you may lose important investors who are ready to come on board, which will be a big loss for the country," he cautioned.

However, Dr. De Silva assured the audience that despite the next few years posing serious challenges on the macroeconomic front, the current level of stability can be expected to be maintained.

On the other hand, he was not optimistic about ongoing trade negotiations on Free Trade Agreements (FTAs) with India and China. He cautioned that there were vested interests to derail the FTA negotiations by promoting falsehoods to the public about these agreements.

"We miss our Chief Negotiator, Dr. Saman Kelegama," he added.

Meanwhile, panelist Selyna Peiris, Business Development Director of Selyn, pointed out the Government's lack of a centralised plan to grow the economy through customised approaches to each region in the country, particularly with regard to empowering women.

She further highlighted the importance of adopting flexible workhours and work-from-home schemes to incentivise more female labour force participation.

The objective behind the New Thinkers' Symposium was to provide a platform for public policy practitioners under 35 years to engage on a common platform to discuss the national economic policy outlook.

As IPS Executive Director Dr. Dushni Weerakoon noted: "The idea behind the Symposium is to give a platform and a collective voice to the younger generation and bring together the new thought leaders to discuss the needs of the Sri Lankan economy."

IPS Research Officer Ashani Abayasekara and Research Assistant Yolanthika Ellepola also spoke during the event.

The symposium, held at the Dr. Saman Kelegama Auditorium, saw the participation of over 90 professionals in the public sector, private sector, academia, and other fields of interest.