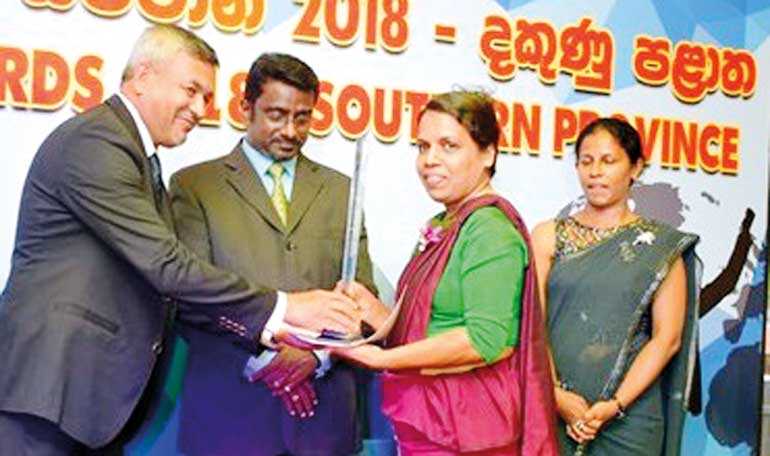 Rajika Priyangani receiving the award
---
Hiru Fashion was presented with the award for Best Entrepreneur in the Southern Province under the large scale, services category at the Southern Province Business Excellence Award ceremony.
The ceremony was held under the auspices of the National Enterprise Development Authority with the assistance of the Galle and Matara Chambers of Commerce and organised by Hambantota District Chamber of Commerce. The ceremony was held under the patronage of the National Enterprise Development Authority Chairman Dakshitha Bogollagama at the Matara Grand Navro Hotel in a grand manner.

Rajika Priyangani, 18 years ago, started Hiru Fashion to help support her husband and at present it has become one of the most renowned businesses in the Southern Province garment industry. Hiru Fashions is especially known for its high quality shirts and has established their factory in the Batheegama, Dikwella area.

Hiru Fashion which is a leading producer of high quality shirts, sells it at a reasonable price, guarantying the sale of the latest designs available for wholesale. Apart from business activities, the company also undertakes various social initiatives, keeping in mind the social responsibility of the company.

"I built this business from zero. And through the various difficulties I faced, I have been able build this business to a very good place. I was greatly helped in this endeavour by my dear staff and special mention has to be made for the three officers of the Matara District Secretariat, Productivity Unit. In future I hope to further expand this business and provide the youth of this area with more job opportunities," said Hiru Fashion Founder Rajika Priyangani.