The Garage SME Cohort of 2020: Lahiru Saranga, Dulara de Alwis, Lonali Rodrigo, Sonali Pandithasekera, Gordon de Silva and Nishantha Jayathilake
---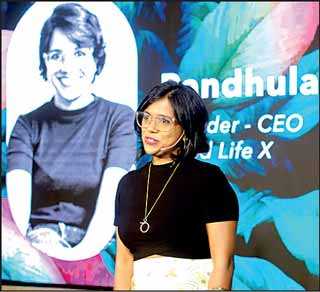 GLX Founder CEO Randhula De Silva giving the keynote at 'Future of Asia: Sustainable Entrepreneurs Leading a Conscious Revolution'
---
'The Future of Asia – Business Champions Leading a Conscious Revolution' is the ambitious and on-target title for the Good Life X (GLX) celebrating its entrepreneurs' successes and outlining its next
steps to extend its innovative and disruptive growth catalyst efforts even further.

Held in Colombo, the event was helmed by GLX Founder-CEO Randhula de Silva, who looked well at home in the innovation space Hatch, which she once steered leadership of alongside her current role.

Over the course of the event the select room of invitees were introduced to the 5 game-changer companies who recently completed GLX's 'Garage' programme, then to the global expertise of GLX's local and international network drawn together to trigger a business led conscious growth stimulus, while declaring GLX's new status as an independent entity only two short years since its initial founding as a pilot project of its development sector partner GIZ Sri Lanka and the German Government.

This far-distance travelled in a short-time is very much based on GLX's early successes in catalyzing growth for the over 40 start-ups and SMEs that have now participated in its locally rooted and globally minded, innovation-ethics-and-sustainability centered growth programmes for business. GLX's focus on agri-food, tourism, wellness, and design has allowed it to mine potential for disruption in sectors too long overlooked as spaces for innovation and connect dots for tech innovators to solve deep rooted problems in these sectors.

The transformative and disruptive-mindset nurturing aspects of the GLX programme was especially evident in the first group component of the event. Sharing their insights of how they embrace growth differently, a panel discussion was held amongst the 5 companies who completed GLX's first GLX Garage programme implemented with the special funding received from the German Federal Ministry for Economic Cooperation and Development (BMZ), in response to the impact of COVID-19.

GLX Garage, The Good Life X's programme for SMEs, was piloted amidst the uncertainties of the 2020 pandemic onset. Staying true to the GLX ways, Garage was geared to meet the SMEs and their entrepreneurs 'where they are at' which in terms of the selected enterprises was at a point when they were seeking change as part of growth strategy, wanting to amplify their values at the core of their businesses and products, and also strengthen their business resilience and adaptability at a time of great challenge.

The selected entrepreneurs included four agri-food organisations and one sustainable apparel design company who represented the drive and readiness for taking the best of Sri Lanka to the world by taking a reset and reimagine mindset to their business and aligning themselves with the best practices in innovation, ethics and sustainability of the present and the future-minded and growing global conscious consumer market.
The panel featured
Ceylon Exports & Trading CEO Dulara de Alwis, CEO Gordon de Silva and CFO Sonali Pandithasekera of Serendipol – two companies in the agriculture export sector who are reimagining and reinventing the traditional approach to coconut; Nishantha Jayathilake – Managing Director, Worga Naturals, a company that's putting Sri Lanka on the map as an organic jackfruit provider to the vegan/alternative meat market and exploring new ways to create value added vegan products; Lahiru Saranga – Organic Assurance Manager, for Target Agriculture – who is diversifying their product portfolio and is introducing a novel spice range; and Lonali Rodrigo – Founder and Lead Designer for House of Lonali who is leading the charge for sustainability centered apparel and accessories design. The discussion was moderated by Anushka Wijesinha – Economist and Director Seylan Bank PLC.

The ideating, insightful, and knowledge driven session explored the way in which these SMEs are disrupting the sectors in which they operate, championing the GLX belief of collaboration over competition and how they are building global brand equity. Discussions also highlighted the future of international business and Sri Lankan exports gaining a foothold in global markets through new solutions and value creation.

Through the demonstrative successes of transformative programmes like the GLX Garage (GLX also has an accelerator for startups, and crisis-response programs with targeted funding), along with an increasing list of partner individuals and organizations from Europe, USA and Asia, GLX has grown quickly and organically with an ability to viably structure itself to function as a larger, stand-alone with capabilities for global growth and impact.

Noting the success of the Garage program which was implemented amidst the pandemic and this significant milestone of a program that started as a development sector project, Andreas Berg, Deputy Ambassador of Germany to Sri Lanka and the Maldives stated: "It is a real pleasure to see how this pilot has evolved into an independent and viable entity. This is an excellent example of German-Sri Lankan cooperation focusing on sustainability and strengthening the Sri Lankan economy."

Randhula de Silva further shared: "We are excited to begin this new chapter of GLX, which has now taken flight on its own. Having built an incredible spirit of innovation and entrepreneurship driven by sustainable and human centric values at its core, we want to extend our efforts to reach more and more entrepreneurs ready to embrace this change and replicate our success internationally. Our programmes aim at empowering entrepreneurs and founders in their long journey, with social consciousness the default way of life and business and to place ourselves strongly and powerfully, in the eyes of the world."