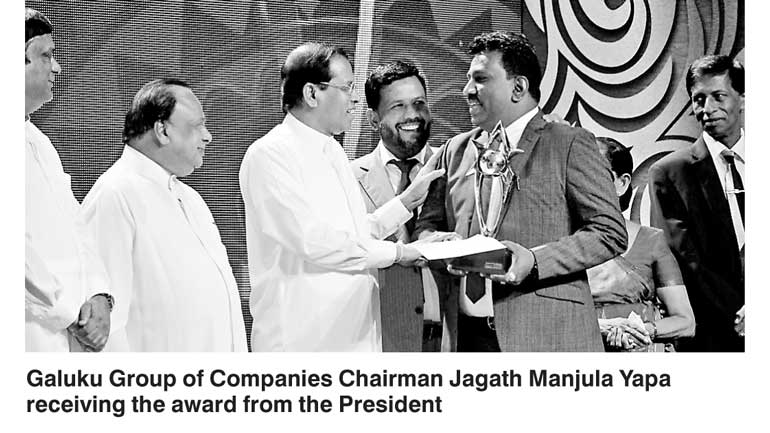 Jagath Manjula Yapa, the Chairman of Galuku Group of Companies was awarded as the most excellent businessman in the category of innovative value-addition products at Wayamba Vijayabhimani Entrepreneur Excellence Awards. This award was secured by Galuku Hydroponic Ltd., a sister company of Galuku Group of Companies. President Maithripala Sirisena witnessed this award ceremony organised by north Western Provincial Industrial Services Bureau at the Provincial Council auditorium in Kurunegala.

The ambition that induced the inception of Galuku Hydroponic Ltd. in 2004 was the need to attire economic value on the leftovers of coconuts. They started their business on coir substrates and their subsequent experiments led to the manufacture of a more developed, quality-driven products range for the market.

Their first series of value-added products comprised of coir substrates-based agricultural outputs. The persistent popularity these coir substrates-related products could gain in nursery growths was remarkable. As they introduced most ideal coir substrate products that were sensitive to the water consumption, they could invade a massive market territory. Galuku Hydrponic Ltd. has also invented products required for pets. They already carry a glorious demand in the market. Galuku Hydroponic Ltd. won the Wayamba Vijayabhimani award for the innovative products they manufacture for the pets, oil-related industries and innovations for domestic tasks.

Their other products contain highly pure oil-related foods and skin-care products among them. Australia, New Zealand, Singapore, Hong Kong, Japan, Korea, China, America, Canada, Mexico, South Africa, Turkey, Great Britain and Germany are the major destinations of Galuku imports. Jagath Manjula Yapa stated that the Entrepreneur Excellence award is the result of the collective effort exercised by the management and the staff. He has won Gold and Silver Awards at the FCCISL Best Entrepreneur Award Ceremony in 2010 and 2012.