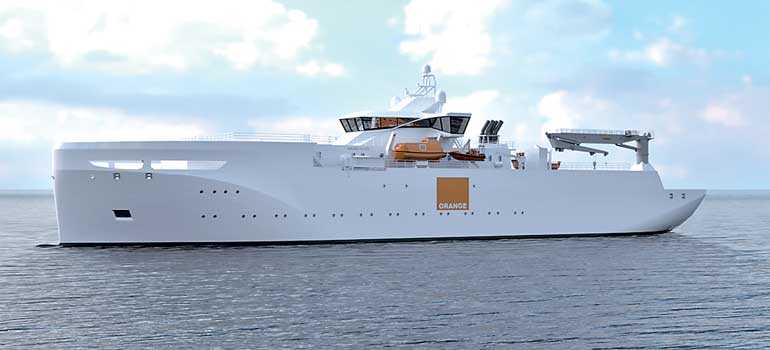 Cable laying and repair vessel for Orange Marine to be built by Colombo Dockyard
---
Ambassador of France – Sri Lanka and the Maldives His Excellency Eric Lavertu, Secretary to the State Ministry of Warehouse Facilities, Container Yards, Port Supply Facilities and Boats and Shipping Industry Development D.D. Matharaarachchi and Embassy of France Economic Counsellor Jean-Alexandre Egea paid a courtesy visit to Colombo Dockyard PLC (CD) recently.

The Ambassador undertook this visit as part of the recent contract inked between the Colombo Dockyard and Orange Marine – France.

The Ambassador, the Secretary to State Ministry and the Economic Counsellor were received by CD Chairman Hideaki Tanaka and CD MD/CEO D.V. Abeysinghe and followed up by a cordial discussion including other senior officials of the CD, including Director K. Kanaya, Technical Advisor/Alt.Director S. Asai, Chief Commercial Officer Benny Fernando, GM – Production Thimira Godakumbura and Head of Shipbuilding Marketing Prince Lye.

CD thanked HE the Ambassador, Hon. State Minister Jayantha Samaraweera and the Economic Counsellor for their support extended in view to the finalisation of the contractual documents under special approval in November 2020, giving priority to continuation of economic activities without any hindrance by the pandemic. CD presented plaques of appreciation to HE the Ambassador, Economic Counsellor and to the Secretary to the State Ministry on behalf of the Hon. Minister.

The Ambassador wished CD the best of luck in construction of this high technology vessel, which is especially designed and equipped for sub-sea cable lay and repair operation duties worldwide and expressed his continued support to further consolidate bilateral business and to explore new avenues for business cooperation between France and Sri Lanka.

As the leader of Shipbuilding Industry in Sri Lanka, CD continuously proves its excellence through successful securing and execution of shipbuilding projects worldwide and is one of the front runners of Sri Lankan industrialisation. CD operates in joint collaboration with Onomichi Dockyard Company – Japan, who owns a stake of 51% at CD. CD also has a 35% shareholding by Sri Lankan Government institutions.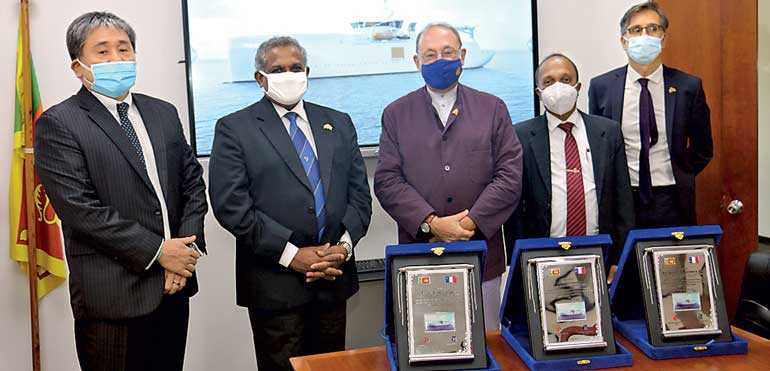 From Left: CD Chairman Hideaki Tanaka, CD MD/CEO D.V. Abeysinghe, Ambassador of France – Sri Lanka and Maldives HE Eric Lavertu, Secretary to the State Ministry D.D. Matharaarachchi, Embassy of France Economic Counsellor Jean-Alexandre Egea
---