Diligent Solutions, one of the prominent consultancy and organisational efficiency enhancement organisations in Sri Lanka, is presently conducting a series of complementary webinars in association with their Singapore partners, Excellence Edge International (EEI).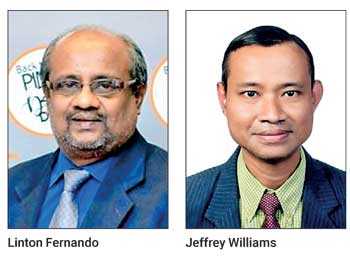 They have already conducted two very successful webinars on 'Jigsaw Discovery Tool' and 'Block Chain Technology'. The sessions were conducted by world-class trainers Gustin Law and Stervey Lim, respectively.

The jigsaw discovery tool allows you to identify the behaviour of one person or a group. Upon completion of a three-hour program of the Jigsaw Discovery Tool which involves many activities, an organisation or an individual can obtain a first-hand report on the behaviour of the group or the individual.

Based on the report, they could decide on any areas of development required for the group/individual in order to achieve excellence in their projects/activities. Further if an organisation wants to employ a team/individual for a particular project/assignment, they could assess the capabilities of the group/individual and select the best or improve the areas of concern.

The three-hour session is available online and on the request of an organisation. The analysis can be done according to the requirement of the project/organisation as well. The sessions will be conducted by Gustin Law and Jeffrey Williams, who have conducted very successful workshops, both internationally and in Sri Lanka.

Stervey Lim, a well-recognised trainer in Singapore, conducted the session on 'Block Chain Technology' and explained how anyone can use the technology and enjoy its benefits. Showing case studies on insurance and travel industries, Stervey mentioned that it can be used for secure payment gateways as well.

Further he showed that blockchain is much more secure and reliable than bitcoin and showed how alibaba.com and amazon.com have used this technology for their expansion throughout the world. Further it was shown that anyone who has viable projects can obtain investment facilities form anywhere in the world. Three- to four-hour online programs are available for those who want to master the technology. During the webinar, he connected the participants to two complementary insurance and travel blockchain links.

The next session will be conducted tomorrow at 2:30 p.m. Coen Tan, an international speaker on leadership will take over the session under the heading 'The Leadership: COVID-19 Perspective'. During the session, he will introduce 'The Leadership – GEM' and how we can face the post-COVID-19 challenges.

Those who wants to register can send their name, organisation, designation, WhatsApp number and email address to linton@diligentsolutions.info and obtain the link for the Zoom webinar.

Diligent Solutions Founder/CEO Linton Fernando stated that they planned to conduct a 'Singapore week' in Sri Lanka from 23 March and had to postpone to August due to the COVID-19 pandemic. EEI Singapore Managing Director Jeffrey William was also very positive that EEI can work with Diligent Solutions and enhance the Sri Lankan workforce to face the post-COVID-19 challenges effectively. They have already made arrangements to conduct many online webinars and workshops for Sri Lankans and further details can be obtained by sending an email to linton@diligentsolutions.info or by visiting www.vidvaanconsultants.com and www.excellenceedginternational.com.

In addition, Diligent Solutions and EEI organises programs for local entrepreneurs and business professionals in Singapore for them to obtain a first-hand knowledge by visiting their industries and experiencing Singapore culture. EEI works with Singapore's best motivational speakers and trainers who are well-experienced professionals in the trade and who have been contributing for the development of Singapore. Now Sri Lankans also have the opportunity to experience them.