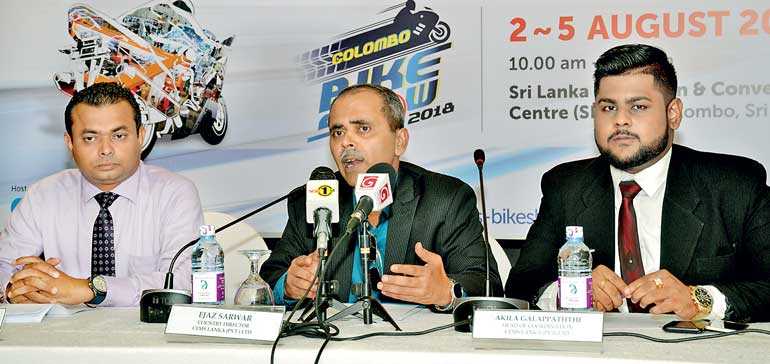 At the press conference from left AMW-Yamaha Regional Manager Manoj Indika Galawatte, CEMS Lanka Country Director Ejaz Sarwar and CEMS Lanka Head of Coordination Akila Galappaththi

– Pic by Daminda Harsha Perera
By Ruwandi Gamage

Sri Lanka's first ever Colombo Bike Show and Sri Lanka Auto Parts Expo, to be held in Colombo this weekend, will feature electric versions with aims of popularising the new technology in the market, along with other varieties.

The exhibition to be held during 2-5 August from 10 a.m. till 7.30 p.m. at the SLECC, offering free entrance, will house 70-80 motorbike distributors and dealers displaying renowned motorbikes, classic bikes, scooters among which 7-8 will be e-bike exhibitors. Lubricant companies, battery and international automotive component manufacturers, as well as importers from China, India and Bangladesh will be showcasing their latest products and services.

Speaking at the launch, Conference and Exhibition Management Services (CEMS) Lanka Country Director Ejaz S. Sarwar said this is their first attempt at promoting e-bikes in the market.

"Although there are a few distributors who are already importing e-bikes, the public is not aware of it much. We will be bringing in products from a few Chinese manufacturers to make it more popular and give the people an opportunity to learn about them," he said.

Sarwar stated that CEMS Lanka's decision to hold a motor show solely created for bike riders was because of market dynamics.

"The motorbike industry with over four million existing imports and 350,000 new registrations each year creates a big market that has never been given individual focus in a motor show ever before in Sri Lanka, and thus the reason for an exhibition dedicated only for bikes and the introduction of new technology to riders here in Sri Lanka," he said.

CEMS Lanka is hoping to become the leading international exhibition in Sri Lanka on motorbikes, e-bikes and motorbike auto parts and open a one-stop single platform for the latest technology for the automobile industry, thus promoting the trade towards a rapid development.

"We are hoping to continue this show given the response from the public and traders; and we are hoping to have a bigger and better response from dealers, distributors and manufacturers in our upcoming ventures," remarked Sarwar.

"At the show, AMW-Yamaha will hold indoor and outdoor activities focusing on safety bike riding and skill riding targeting the young people and will also offer free bike check-ups for visitors at the venue," said AMW Yamaha Regional Manager Manoj Indika Galwatte, speaking of Yamaha's collaboration with CEMS Lanka in the 'Colombo Bike Show 2018.