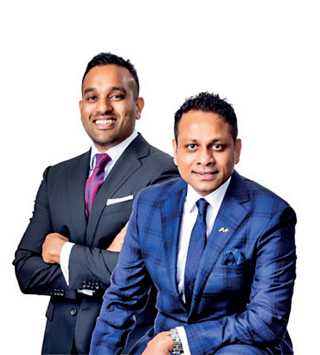 JAT Holdings Founder and Managing Director Aelian Gunawardene and his son, Director of Head and Strategic Planning Richard Gunawardene (left)
---
Paying tribute to Sri Lanka's top business people, JAT Holdings' renowned father-son duo was recently acknowledged in LMD's latest 2020 A-list edition.

Aelian Gunawardene, Founder and Managing Director of JAT Holdings, was recognised among the top 100 Sri Lankan business people who continue to drive the nation's engine of growth, whereas his son Richard Gunawardene, Director of Head and Strategic Planning, was listed among LMD's A-list of 25 leading millennials.

As the driving force behind the success of JAT Holdings, Aelian Gunawardene was also conferred the Platinum Award as the Sri Lankan Entrepreneur of the year by the Federation of Chambers of Commerce and Industry of Sri Lanka. He was also placed among 23 elite businesspersons in the Annual List of Businesspeople of The Year, while playing a pivotal role in transforming JAT Holdings into the leading conglomerate and employer brand of choice that it is today.

His son, Richard Gunawardene, is largely recognised as a marketing professional with multifaceted experience who has contributed towards fostering an agile and innovation-driven culture at JAT. Richard is also the Co-Founder of the Property Development sector of JAT Holdings, Co-Founder of Ceylon Hemp Effect and a founding member of EO Sri Lanka.

As one of the youngest brands to be included with over 28 years in operation, JAT is proud to have two members of its leadership team be recognised amongst the top 100 business leaders and top 25 leading millennials in Sri Lanka who continue to drive the nation's growth. The LMD A list showcases the best in Sri Lanka's corporate and professional communities, who demonstrate immense grit to overcome adversity amidst the challenges posed to businesses as a result of the COVID-19 pandemic.

Since its inception in 1993, JAT Holdings has grown to become a leading brand representing a large spectrum of categories in the furnishing and finishing industries. At present JAT has a strong product portfolio with a range of products with a wide array of renowned brands. The latest addition to this range was the successful launch of a Brilliant White Decorative Emulsion and Weather coat wall paint under the brand 'WHITE by JAT'.