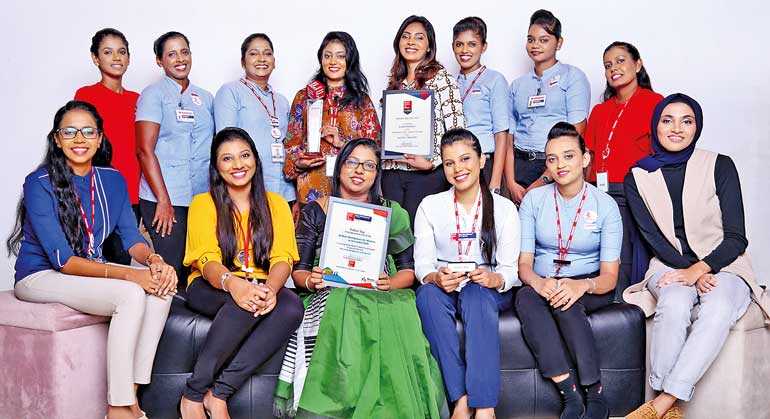 Fashion Bug recognized among Best Workplaces for Women in Sri Lanka
---
Fashion Bug's efforts to create equal opportunities regardless of gender differences, and celebrate diversity within its workplace was rewarded when the pioneer fashion retail organisation was selected as one of the Top 10 Best Workplaces for Women in Sri Lanka for 2019.

The recognition comes at the inaugural edition of Best Workplace for Women in Sri Lanka conducted by Great Place To Work, with the objective of recognising the pivotal role played by women in the labour force and the sheer proportion of women capable of contributing to the nation's economy.

With a 30% female workforce, Fashion Bug strives to create a safe and secure working environment, especially for women who are placed on all levels of the organisation's hierarchy. The management adheres to non-discriminative policies in promotions, task delegation and empowerment, concentrating solely on performance.

Female representation is evident in leadership positions across functions such as Finance, Accounts, Merchandising, Fashion Designing and Retail Operations. In addition, flexible leave policies are in place to help maintain a work-life balance. Training and development is considered key in empowering employees and special leaves are entertained for knowledge improvement.

The key concept on which Fashion Bug was recognised was the method of utilising women's strength for communication. Identifying the fact that junior level female employees are comfortable sharing their grievances with senior level female staff, the organisation ensures that female leaders constantly visit showrooms and business operations. Through cordial chats, they not only share knowledge and insights, but also receive feedback and grievances that are addressed at senior management meetings.

"This recognition comes in the wake of Fashion Bug winning the Great Place To Work Award for the second consecutive year as well. Being among the Top 10 Best Workplaces for Women is an honour to us, since diversity and equal opportunity is part of our DNA. As a fashion retail brand, empowering female employees takes a major role in our core strategies and operations. Most importantly, we have received this accolade on one of our significant milestones – the 25th anniversary. Thus, it reconfirms our beliefs and outlook in building the organisation to greater heights," stated Fashion Bug CEO Shabier Subian.