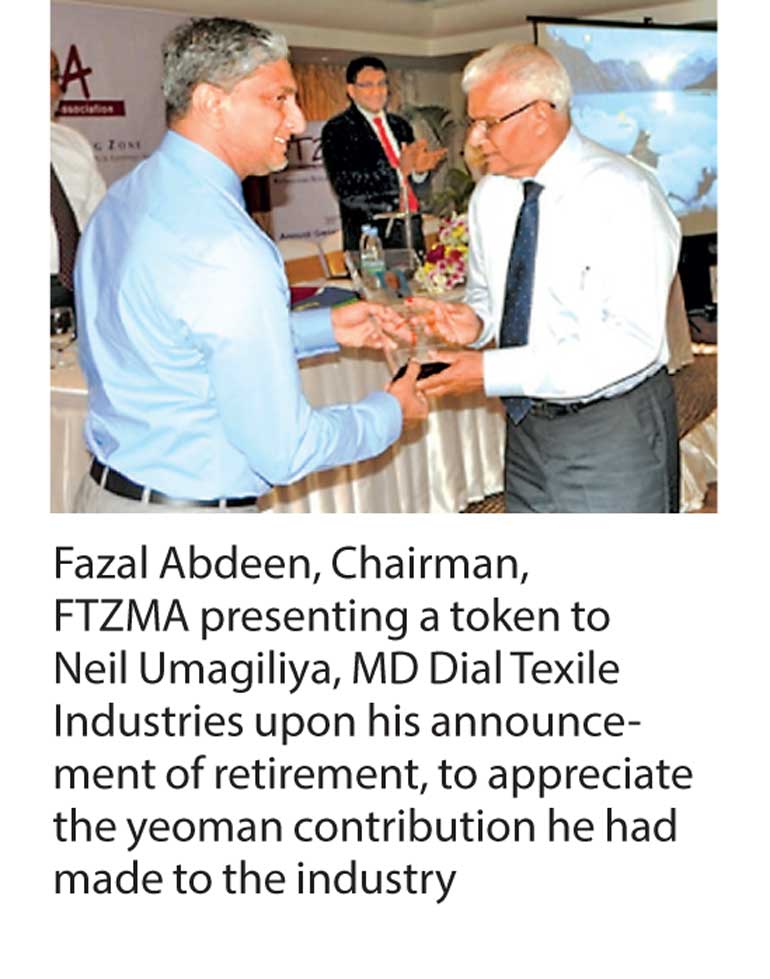 Manufacturers are the backbone of the country's economy. The Government too has realised this by providing various incentives and introducing policies, said Free Trade Zone Manufacturers' Association (FTZMA) Chairman Fazal Abdeen addressing the 38th AGM in Seeduwa recently.

"However introducing policies alone is not sufficient. We also need consistency in terms of policies and regulations in order to plan ahead. We need to look at a longer term and a bigger picture always," he said after being reappointed as FTZMA Chairman for 2018-2019.

He opined that Sri Lanka had the necessary resources and motivation to emerge as a strong competitor in the global apparel market. What the country needed was the decisive juncture in the gentle push from the government in the form of steady consistent policies that will serve to make the country appealing in the eyes of deserving investors.

"We hail the present regime for working to bring back the GSP Plus concessions which is sure to benefit the manufacturing and exports sectors of the country. While the Government is working to make conditions conducive for manufacturers however we believe that it is equally important to ensure communal harmony among diverse religious and ethnic groups of Sri Lanka. We strongly believe that Sri Lanka will be able to reap the optimum benefits of the robust economic development only if we set aside differences and work on one common goal of being a developed nation in the near future," he cautioned

The Chairman said since its inception the association had shrived hard to satisfy the needs of its members who have ably selected teams from time to time to manage the affairs of FTZMA.

Abdeen said the association fondly remembered the past and senior members who made invaluable sacrifices to put Sri Lanka on the map as a competitive manufacturer that is synonymous with quality, if not for their passion and vision coupled with and determination and dedication, the country's economy would not be what it was today.

FTZMA also paid tribute to Neil Umagiliya, who has announced his retirement from the industry, for the yeoman contribution done to the industry.