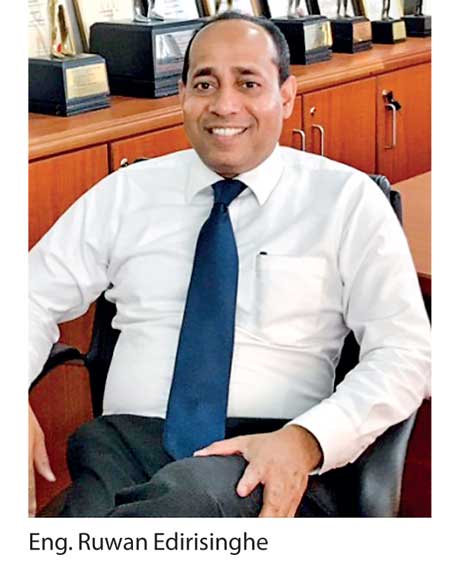 The Federation of Chambers of Commerce and Industry of Sri Lanka (FCCISL) is to clinch the much-coveted and prestigious presidency at the SAARC Chamber of Commerce and Industry – the apex body of SAARC chamber movement in Islamabad, Pakistan in 2018 and appointed its Senior Vice President Ruwan Edirisinghe as the Senior Vice President of SAARC Chamber of Commerce and Industry. He is to assume the presidency of SAARC CCI in 2018.

Edirisinghe is an award winning entrepreneur in the field of construction and the founder Chairman/Managing Director of RN Constructions – the flagship company of the RN Group of Companies. Started in 1996 with only three employees, RN Constructions under the guidance and management of Edirisinghe rapidly grew and reached topmost level category Grade "C1" recognised by construction industry development authority CEDA (previously ICTAD) in year 2005 and maintains its leadership position to date as the topmost home-grown solution provider in the field of construction.

RN Group's backward integration resulted in establishing over 10 manufacturing factories such as Steel Building Manufacturing Company, Amalgamated Building System Lanka Ltd. (ABSL), RN Innovative Products Ltd., RN Ready Mix Ltd., RN Cement Products Ltd., and ABSL Roofing Products Ltd. Today RN Group is exporting its products to the South Asian market.

RN Group has been awarded the Construction Excellence Award, Green Excellence Award, Achiever of Industrial Excellence Award and many more awards including over 25 national and international gold and platinum awards for its excellent performance and contribution to the Sri Lankan economy. Edirisinghe was adjudged as Sri Lankan Entrepreneur of the Year in 2008 by FCCISL at its annual awards ceremony.

He is the Vice Chairman of Ceylon National Chamber of Industries Sri Lanka (CNCI), member of the Management Committee of the Chamber of Young Lanka Entrepreneurs (COYLE), Council Member of Sri Lanka Standards Institution (SLSI), a member of the International Organization for Standardization (ISO), council member of Chamber of Construction Industries of Sri Lanka (CCI), and Committee Member of Engineering and Architectural Council of University Grants Commission (UGC) of Higher Education Ministry of Sri Lanka.

Edirisinghe is a civil engineer by profession and graduated from the University of Peradeniya in 1994.