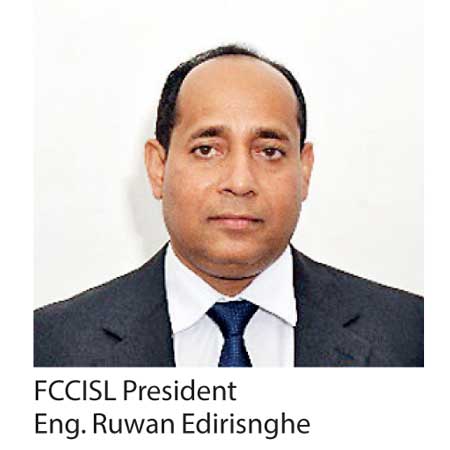 Federation of Chambers of Commerce and Industry of Sri Lanka (FCCISL) President Ruwan Edirisinghe is to clinch the much coveted and prestigious presidency at SAARC Chamber of Commerce and Industry (SAARC CCI) – the apex body of SAARC chamber movement – in Islamabad, Pakistan – at a grand ceremony to be held at hotel Shangri La, Colombo on 26 March. He served as Senior Vice President of SAARCCCI in year 2017.

Ruwan Edirisinghe will be the 13th president of SAARC CCI and the second Sri Lankan to be appointed to this position. Commenting on his new position he said, "I'm feeling honoured yet humbled to accept this prestigious position of Presidency at SAARC Chamber of Commerce and Industry headquartered in Islamabad, Pakistan for 2018-2019." He also said SAARC is a political and trade block which has overall population little over 1.7 billion with enormous unutilised natural and human resources. As we all know the engine of the growth of the south Asia is the private sector of SAARC member countries. Therefore, the development and the progress of the SAARC member countries cannot be separated from the development and progress of the private sector of the SAARC member countries.

"In this context, under my Presidency, I wish to focus on trade and investments both unilaterally and bilaterally in short term and long term targets to bring "SAARC" brand shining in the world Economy to be the strongest and best chamber in the world in year 2030," he further added.

Ruwan Edirisinghe is an award winning entrepreneur in the field of constructions and the Founder Chairman/Managing director of RN Constructions – the flagship company of the RN group of companies. Ruwan Edirisinghe was adjudged as the Sri Lankan entrepreneur of the year in year 2008 at its annual awards ceremony. He is the chairman of the Ceylon National Chamber of Industries of Sri Lanka (CNCI) also serves on number of trade chambers and professional bodies in the country in various capacities. Ruwan Edirisinghe is a civil engineer by profession and was graduated from university of Peradeniya in year 1986.