Marks 7 years in 'Carbon Neutral" services
---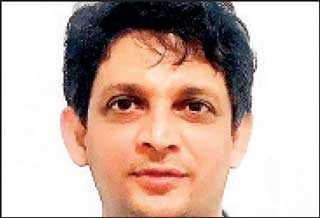 Exterminators Founder/Managing Director Marlon Ferreira
---
The Exterminators Ltd., Sri Lanka's premier pest control and environmental enhancement company, celebrated 22 years in business and seven years in providing 'carbon neutral' services.


Exterminators ventured into the fierce but amazing pest control industry in 1998 with just one man with a spray gun and motor bike but with more force, drive and passion it has become Sri Lanka's premier pest control and environmental enhancement company winning 50 awards for business, brand, industrial excellence, entrepreneurship and environmental leadership and finalist at 'Edie Sustainability Leaderships Awards (UK) 2020'.

The company is the trendsetter in pest management industry and the SME sector in Sri Lanka and the emerging world.

Exterminators is Asia's 1st 'Carbon Neutral' certified pest control company and the World's 1st 'Carbon Neutral' certified Anti-Microbial Disinfection Company. 'Smart Missile' designed and manufactured by Exterminators is the World's 1st 'carbon neutral' termite station. As at 30 November 2020, Exterminators have off-settled 548 tons Carbon Emissions.

All staff at Exterminators have undergone intensive training related to preventive pest management, pest risk assessment, occupational health and safety, food safety, quality management and environmental management under direct supervision of the senior management. The senior management has undergone intensive residential training in all aspects of pest control in UK, USA, EU, Australia, Dubai, India, Singapore, Malaysia and Thailand and holds the industrial following qualifications.

Exterminators is Sri Lanka's 1st IMS – Integrated Management System certified pest control, anti-microbial disinfection and SME company. ISO 9001, ISO 14001, ISO 45001, ISO 22000 and COVID-19 (SLS 1672;2020) Safety Management System Certified. Exterminators is member of the National Pest Management Association – USA since 2004, member of the Singapore Pest Management Association since 2005 and member of the British Pest Control Association since 2017.

'Stop Dengue' program initiated in 2008 as a key CSR project to educate the general public about the deadly dengue epidemic. Since then, the company has given back over Rs. 5 million to the community by donating equipment to combat dengue to local city councils, printing and distributing dengue awareness material, social media campaigns, awareness programs for institutes, schools, etc. 'STOP COVID-19' was launched in March 2020, since then Exterminators has disinfected 71 elders' homes, 30 police stations, 15 religious sites and 17 public places and schools free of charge by travelling over 6,000 km to date. It is noteworthy to mention that none of the locations disinfected have reported any COVID-19 cases.

The Exterminators Ltd., Founder/Managing Director Marlon Ferreira stated, "Since the industrial revolution, the damage that humankind has done to the environment is devastating. The threat that this un-changeable damage poses on future generations cannot be ignored anymore. Environmental accountability is becoming the rule and not the exception in today's business world. Businesses today are expected to be less harmful, more transparent, and to actively participate in making positive changes to improve the environment. As a leader in the pest management industry and the SME sector in Sri Lanka, we believe that we have a moral obligation to respond to this new paradigm – to adopt a business model of increased accountability."

He further stated, "Since the inception of our company we have designed, developed and articulated innovative solutions and best practices. Our philosophy is to creatively destruct via constant innovation to find novel and sustainable solutions by emphasising on triple bottom-line concept to create circular economy by doing it right and doing it well." For more details, please visit www.exterminators.lk.